Product Description
Beastify the battlefield! Worlds collide when the Maximals and Predacons join the fight, coming together with the Autobots and Decepticons in an epic battle that will alter their destiny forever. This collectible figure stands at the new Core Class scale and depicts the scheming Decepticon second-in-command, Starscream! The 3.5-inch mini-figure allows fans to collect a mini version of the iconic character to pose out with other Starscream toys at larger scales! (Each sold separately, subject to availability.) This Core Class Starscream figure converts to G1-inspired Earth jet mode in 17 steps and comes with his 2 classic Null Ray weapon accessories. This 3.5-inch Starscream makes a great gift for both kids and adults!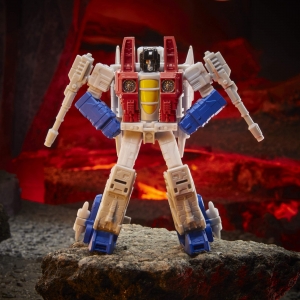 Build The Ultimate Battlefield : Discover an expansive ecosystem of collectible figures and weapon accessories with Siege figures.
Customizable Weapon Loadout : Starscream figure comes equipped with 2 weapon accessories. Figure features multiple weapon ports to attach weapons, enabling custom weapon configurations in bot and vehicle modes.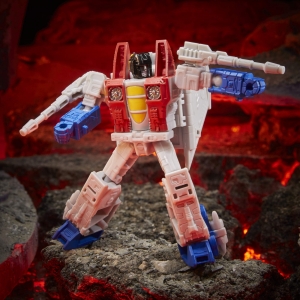 Expandable Weapon Selection : Fans can build bigger mission loadouts by compiling an arsenal of additional weapon accessories from other Siege figures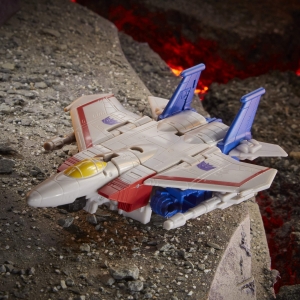 G1-inspired Cybertronian Alt Mode : This articulated Voyager Class WFC-S24 Starscream toy features classic conversion between robot and Cybertronian jet modes in 22 steps.