Product description
Beastify the battlefield! Worlds collide when the Maximals and Predacons join the fight, coming together with the Autobots and Decepticons in an epic battle that will alter their destiny forever. Primal power floods the battlefield as the fierce beast modes of the Maximals and Predacons are unleashed!Unleash the primal power of the beasts with this Optimus Primal collectible figure, featuring a detailed beast mode with intricate molded gorilla fur. Toy converts to Beast Wars-inspired gorilla mode in 22 steps and features hip articulation that allows fans to pose him upright or in a crouch. Comes with the character's classic 2 Cyber Blade accessories that attach to figure's back. Also features hidden forearm cannons and Mega Blasters. Well, that's just prime!Includes a Golden Disk card that reveals a possible destiny of a key character. C Collect other Kingdom figures to reveal all 3 alternate destiny variants for each character! (Each sold separately. Subject to availability.)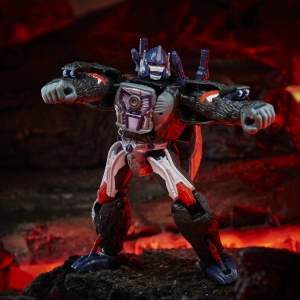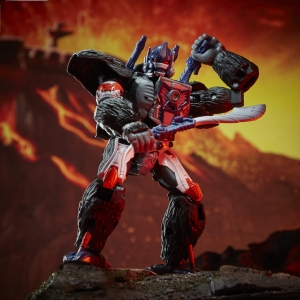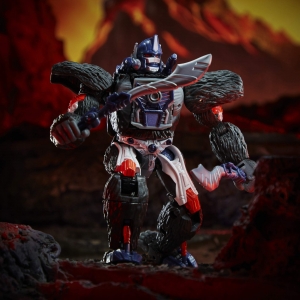 DISCOVER KINGDOM: Worlds collide when the Maximals and Predacons join the fight, coming together with the Autobots and Decepticons in an epic battle that will alter their destiny forever.
BEASTIFY THE BATTLEFIELD: Unleash the primal power of the beasts with this Optimus Primal collectible figure, featuring detailed beast mode with intricate gorilla-inspired molded fur texture.
UNLEASH THE BEAST MODE: Optimus Primal toy converts to Beast Wars-inspired gorilla mode in 22 steps. Hip articulation allows for posing gorilla mode upright or in a crouch. Well, that's just prime!