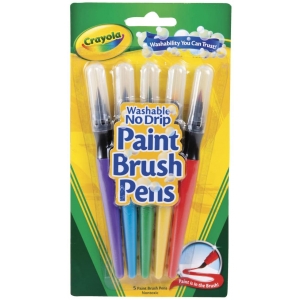 Product Details
From the Crayola Project line, Paint Brush Poster Pens offer a terrific less-mess alternative to traditional painting, since the washable kids' paints are contained inside the pens. Great to have on hand for arts and crafts projects, plus homework assignments, school projects, and more. Crayola Washable Paints wash clean from skin, most washable clothing and walls. This paint set includes 5 Paintbrush Pens in Red, Yellow, Green, Blue, and Purple. Ideal for kids ages 6 & up.
Crayola Washable Paint
Washable Paint for Kids

Created from a water-based formula, these washable kids paints are designed to provide stress free fun for the whole family. Let your child's creativity take off, and when it's time to clean up simply wash away the color from skin, walls, and most washable clothing.

Great for Arts & Crafts

Channel your inner Van Gogh and make your next art project stand out with bold, glossy color! Decorate book covers, signs, or posters with various brushes, stamps, or sponges to create interesting patterns and designs!

Crayola Paint Colors

Crayola paint is purposefully designed to pair richly pigmented color with a smooth, opaque laydown. Looking for customized color? Simply blend two or more paint colors together to create your own new hue!

Safe & Non-Toxic

Stock up on art supplies that are safe for the whole family! Crayola kids paints are designed for even the youngest artist to enjoy. Recommended for ages 3 and up.