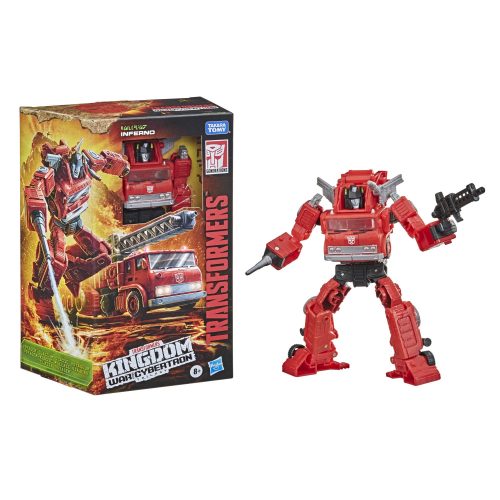 Product description
Beastify the battlefield! Worlds collide when the Maximals and Predacons join the fight, coming together with the Autobots and Decepticons in an epic battle that will alter their destiny forever. With the ancient and highly advanced F.O.S.S.I.L. (Fossilized Osteo-Skeletal Shield Integration Loadout) technology, Fossilizer bots, infused with primordial energy, break apart to weaponize their allies. Use Deluxe Fossilizer figures to beastify the Inferno figure with bone armor! (Sold separately, subject to availability.) In the heat of things, Inferno stays cool under pressure. This G1-inspired toy converts into firetruck mode in 17 steps and comes with classic extinguisher blaster accessory. Features extendable ladder that can be ratcheted to different angles. Includes a Golden Disk card that reveals a possible destiny of a key character. C Collect other Kingdom figures to reveal all 3 alternate destiny variants for each character! (Each sold separately. Subject to availability.)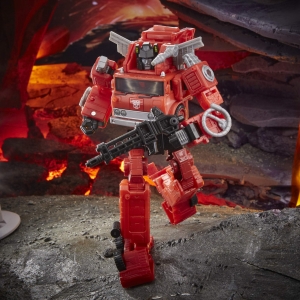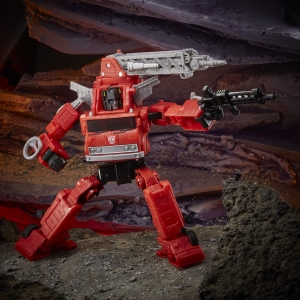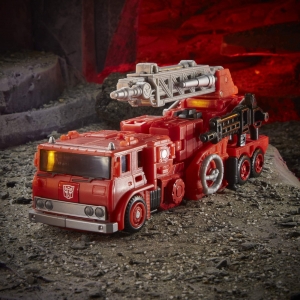 DISCOVER KINGDOM: Worlds collide when the Maximals and Predacons join the fight, coming together with the Autobots and Decepticons in an epic battle that will alter their destiny forever.
BEASTIFY THE BATTLEFIELD: Unleash the primal power of the beasts with the ancient and highly advanced F.O.S.S.I.L. technology. Sentient Fossilizer bots, infused with primordial energy, break apart and weaponize their allies. Use Deluxe Fossilizer figures to beastify this Inferno figure with epic bone armor! (Each sold separately, subject to availability.)
G1-INSPIRED ALT MODE: This G1-inspired toy converts into firetruck mode in 17 steps.

CLASSIC G1 ACCESSORY: Comes with classic G1-inspired extinguisher blaster accessory and features an extendable, ratcheting ladder.