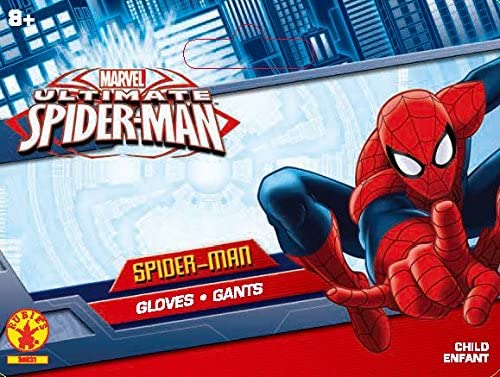 With Great Energy…
You envy your child's energy. Most days it seems superhuman and you wonder how you can harness a bit for yourself. Other days you hope they'll imagine a wild enough adventure during playtime that they're completely tuckered out come bedtime. But on Halloween your greatest wish is to help them embrace their wall-climbing levels of excitement and infuse it into their character costume for some spooky season fun.
Fun Details
Though they won't actually be able to scale the walls of their bedroom at playtime or swing from house to house while trick-or-treating, these Toddler Spider-man Gloves are just the thing to complete your little one's superhero look! Made from a shiny polyester fabric, these one-size-fits-most accessories will have your little web-slinger feeling as flashy and ready to go as Spider-man when his spidey-sense is tingling.
Comes Great Possibilities
Spider-kid, Spider-kid, does whatever a spider-kid can. Spins around all the time, wants a snack on the fly. Look out! Here comes Spider-kid!
Or something like that. Give your toddler the ultimate treat for Halloween and all year round with these officially licensed Toddler Spider-man Gloves. Whether they leap into action with the Avengers or enjoy the solo adventures of their favorite Marvel hero, they'll be set for the fun with these simple accessories.