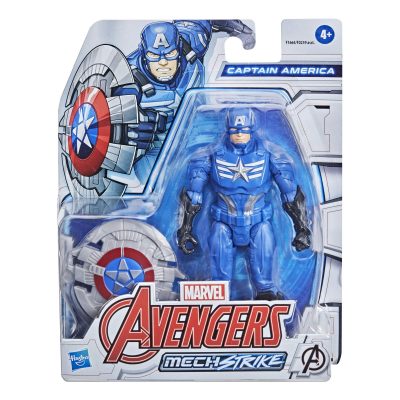 Soar Into Adventure
With The Avengers In a dark universe, the villain Thanos pilots over the planets in the latest protective, high-tech Mech Strike Armor. To take on the Mad Titan, it's up to the Avengers to suit up in weaponized armor that is as powerful as his! Boys and girls can imagine taking part in this epic intergalactic battle of good vs. evil with this cool Mech Strike Captain America.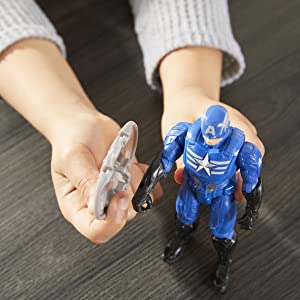 Be The Hero Who Saves the Day
Captain America wields the shield, and this time, it's been Meched Up by the Avengers' most brilliant minds! Get this interplanetary Captain America and activate your imagination! Enter the action-packed world of the Avengers with this Captain America and imagine your favorite super hero leading the charge and defending life as we know it from evil villains. Kids can imagine being a Mech Strike super hero or villain with more toys, figures and gear from Marvel! (Sold separately. Subject to availability.)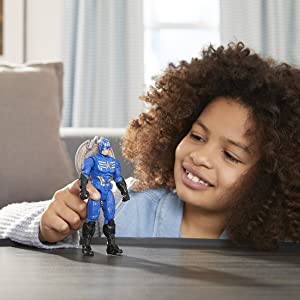 Mech Strike Evil With the Avengers
Carry the red, white, and blue with you like Captain America does! Young super heroes, it's up to you to aid the Avengers in their epic fight by thwarting interstellar aggressors. Activate loads of fun with this Avengers Captain America!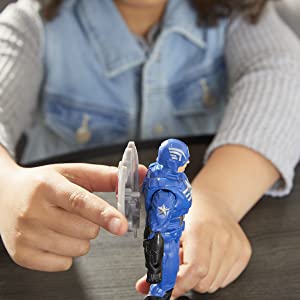 Battle For The Universe
This shield is interchangeable with the shields carried by other Mech Strike 6-inch figures, including Iron Man and Black Panther!(Each sold separately, subject to availability.) Boys and girls can Mech Up! Suit up for cosmic combat with this Captain America, chase villains, and strike noxious enemies who seek world domination; it's all in a hero's Mech Strike adventure!