Here's something to help you move your huge car collection in style. The mega hauler truck from hot wheels comes with six expandable levels to store cars in. You can lift the cab to load 2 cars, and stash away 2 more in a compartment under the rig of the hauler. This mega hauler can also be connected to hot wheels city sets with a fold down ramp at the back of the rig. This vehicle hauler makes for a great gift for young hot wheels fans.
---
​Rev Their Imagination for Adventures on the Road

​The Hot Wheels Mega Hauler is a massive hauler for big rig adventures with endless storytelling possibilities. At the back of this semi-trailer truck there is a ramp that comes down to connect to Hot Wheels City sets and track for side-by-side racing fun and building a world of wheels to explore.

​Big Hauler with Big Features for Big Fun

​This massive hauler can be loaded with up to 50 cars in its six expandable levels—and that's just the beginning! The cab of the hauler opens with space to park 2 more vehicles and the cool transparent side panel slides down so kids can store their favorite rides in a special spot!

​Sweet Storage Solution

​This big rig is not just any hauler. It's really spacious with remarkable storage options for up to 50 cars and lots of surprising features that give kids hours of fun. It's the perfect gift for push-around play, building their collection, and taking their adventures on the road. ​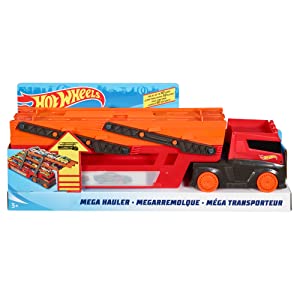 ​Hot Wheels Mega Hauler with Storage for up to 50 1:64 scale cars ages 3 and older​ 50th Anniversary Hot Wheels Graphics