Product Description
Make a splash with Barbie® Sparkle Lights Mermaid doll from Barbie™ Dreamtopia — her tail features magical "swimming" motion and light-up action making her a great gift for young kids!
​Easy activation means kids can repeat the fun over and over again for storytelling surprises and magical effect!
​Simply dip Barbie® mermaid doll into water to activate a rainbow light show within the translucent purple tail — or push the sides of her peplum for a light show on land; a variety of combinations add to the surprise and delight!
​While holding her in the water — or out — press the sides of her peplum to start a swimming motion in the tail; it's so realistic, imaginations will dive right into storytelling!
​Barbie® doll's outfit adds to the magic with a light-catching shimmery pink bod

Immerse yourself in fairy tales with the Barbie "Swimming" mermaid doll.
Discover the magical world of Barbie Dreamtopia! Imagined by Chelsea, Barbie's youngest sister, Dreamtopia is filled with fantasy lands that feature sparkling characters from a gemstone mountain, cotton clouds with flying fairies, or rainbow rivers and mermaids, like Barbie Dreamtopia Sparkle Lights Mermaid with a flick cool "swimming" and rainbow light shows.

Easy activation for repeat fun.
It's so easy to start the magic! Dip her into the water and press down on the sides of her peplum to watch her tail make a realistic swimming motion, at the same time, start a bright rainbow-colored light show because it automatically activates underwater. When on the ground, press the sides of your peplum again for the same effect. Different light shows keep the audience amazed.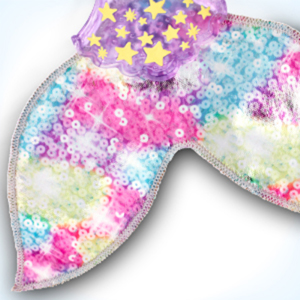 Kids will love repeating both characteristics over and over as they impress their friends and immerse themselves in the storytelling.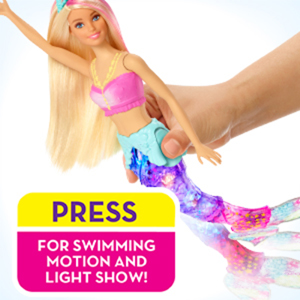 Barbie mermaid doll wears an outfit that inspires the imagination to explore fantasy, adventure, and fairy tales.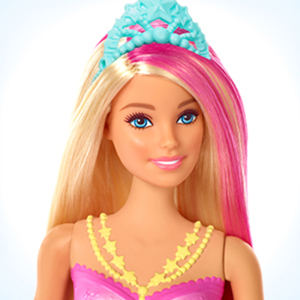 The pink bodice sparkles, tiny sparkling stars decorate the tail, and a holographic fin reflects even more light and color. Put your tiara on your pink streaked hair and make a real splash in playtime!

Dream of Barbie!
Young imaginations can play out all kinds of fantasy stories with the Barbie Dreamtopia Sparkle Lights Sparkle mermaid doll. Create new fairy tales, explore new worlds, and sail with Chelsea and older sister Barbie to magical lands where adventure never stops and imagination soars! Collect all of the Dreamtopia dolls and toys to build the magical world for even more fairy tale fun!