Product Description
Get ready for a wild, whirling adventure as Thomas gets caught in the path of a tornado!
This Fisher-Price Thomas & Friends motorized toy train set lets kids experience a world of fun and thrills as they watch Thomas take the ride of his life!
In the TrackMaster Twisting Tornado Set, Thomas is speeding around the rails when he encounters something totally unexpected – a tornado!
Kids can send motorized Thomas on the tracks towards the covered shed, but when he enters, the tornado spins Thomas and the shed on a path of destruction!
As the shed turns, it bursts apart and knocks over powerlines before delivering Thomas safely to the other tracks.
For even more excitement, children can rush to reset the shed before Thomas makes his way back to the gap in the tracks.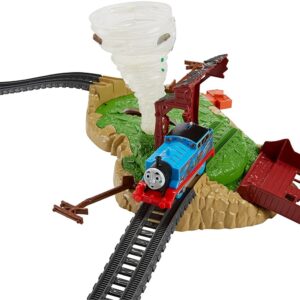 Cognitive development
The Fisher-Price Thomas & Friends TrackMaster Twisting Tornado Set offers exciting, fun-filled play that can encourage physical and cognitive development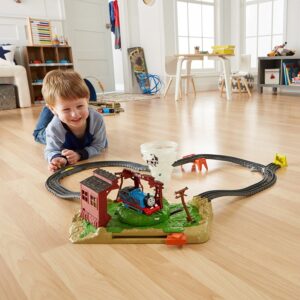 Motor skills
The sights, colors and textures provide an array of visual and tactile stimulation, while grasping the train and connecting the track pieces can promote fine motor skills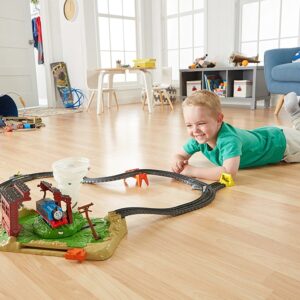 Creativity
As children watch Thomas spin with the tornado, and learn how to reset the shed and powerlines, it can also foster thinking skills and understanding of cause and effect. Plus, as children join Thomas on his adventure, it can help inspire imaginations and encourage positive emotional connections