Product Description
This adorable Tropicool™ Pineapple purse compact opens to an exciting safari adventure with micro Polly™ and Lila™ dolls, a monkey figure and boat that fits 2 dolls.
​Discover and explore these fun activities and reveals: the treehouse opens to find a swinging hammock; zipline for fast fun; hang out with the monkey; find hidden animals like a lion in a cave and pop-up meerkats and hippo; eat yummy food at the rainforest café and more!
​Compact has a strap so kids can wear it as a purse or you can transform it into a fanny pack with a belt!
​With fun activities and accessories, Polly™ and Lila™ dolls are set for the ultimate safari adventure!
​Polly Stick™ technology lets you stick the dolls anywhere on the purse compact. Just place the sticker from the sticker sheet (included) anywhere and the dolls will stick to the sticker.
​Includes Polly Pocket™ Tropicool™ Pineapple purse compact, micro Polly™ and Lila™ dolls, 2 accessories and sticker sheet. For ages 4 and up.


Play anytime, anywhere.
Discover endless adventures of micro fun with the Tropicool Pineapple compact bag with a fun safari game.a


Ideal for home or travel.
The Tropicool pineapple compact bag includes micro Polly and Lila dolls, 8 fun features, and a monkey and a boat. Carry it as a purse with the strap or transform it into a fanny pack with a belt.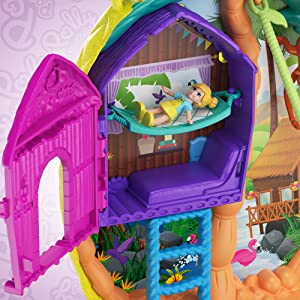 Open the tree house and find a hammock! Polly doll relaxes after a fun day of safari activities. Push the hammock, and it really rocks!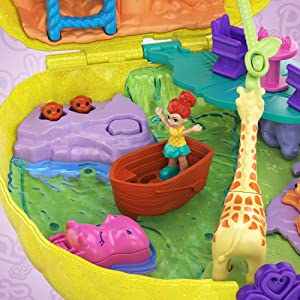 Sail the river safari! It's time for a boat ride, and Lila and Polly dolls can fit in the boat and go exploring! Be in search of animals like a hippo, meerkats, giraffe, lion, and rhino!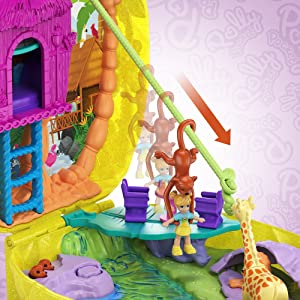 Zipline! Polly or Lila doll can ride the zip line with the help of her cute friend – lots of fun! Now they can head to the rainforest cafe for lunch. What a fun safari day!


The ultimate portable adventure!
Look for other Polly Pocket Purse compacts with a variety of fun adventures for unlimited ways to play.