Marvel Legends Iron Man Electronic Helmet
For years, Tony Stark has been trouncing evildoers and thwarting nefarious schemes in the guise of the Invincible Iron Man. The ever-evolving high-tech armor, in combination with Stark's own bravery and sense of justice, proves itself a formidable foe of wrongdoing.
The Marvel's Legends Series is dedicated to providing fans with exceptional action figures and choice Premium Role Play collectibles. The Iron Man Electronic Helmet is a perfect addition to the brand – built with the serious Marvel true believer in mind.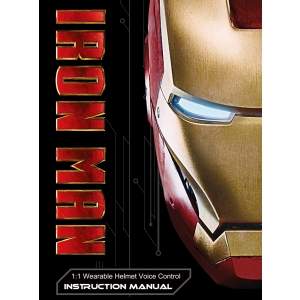 1:1 Iron Man MK7 Wearable Helmet
---
Three Control Modes : English Voice Control & Touch Control & Remote Control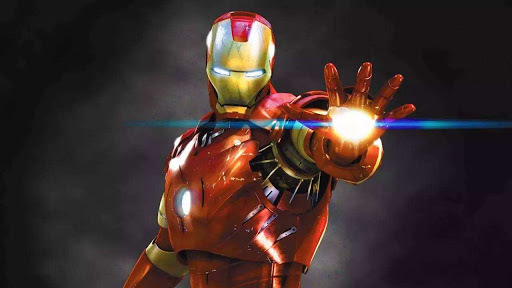 Wearable
The helmet mask can be taken down;
Three control modes: Chinese Voice Control & Touch Control & Remote control;
Mask with matte metallic paint effect;
Mask with detailed internal structure;
Transparent eye light (it is visible when the eye light is off);
Three-dimensional chin line;
English  Voice/ Touch/ Remote control mask opening & closing;
English  Voice/ Touch/ Remote control eyes LED light system;
Jarvis voice system;
Machine sound system
1:1 Iron Man MK7 Wearable Helmet And Speaker Base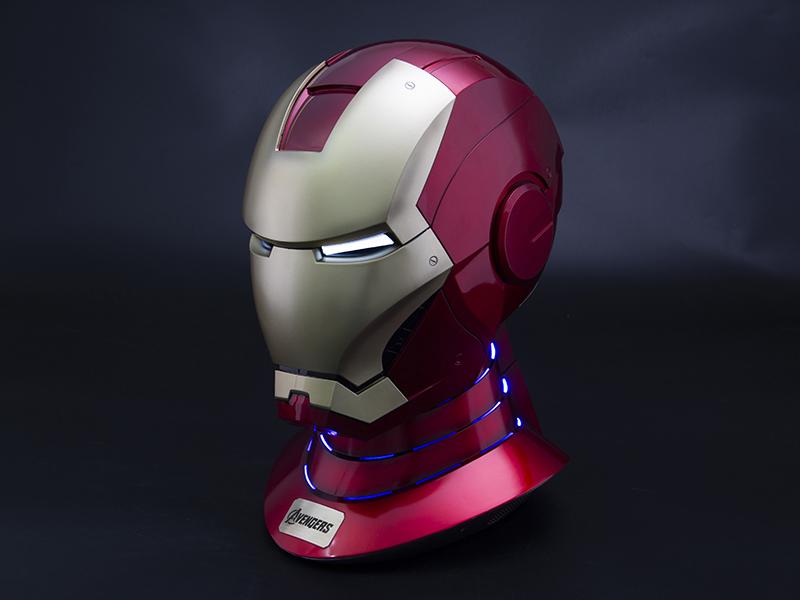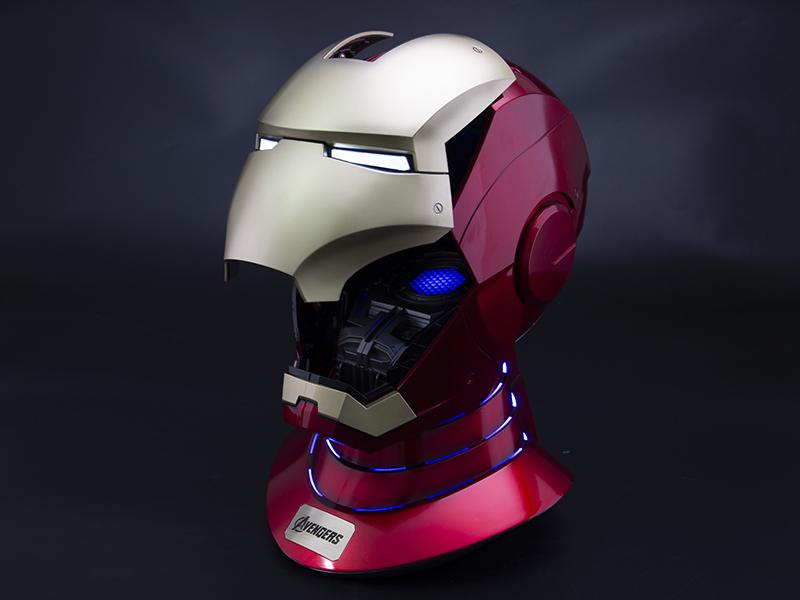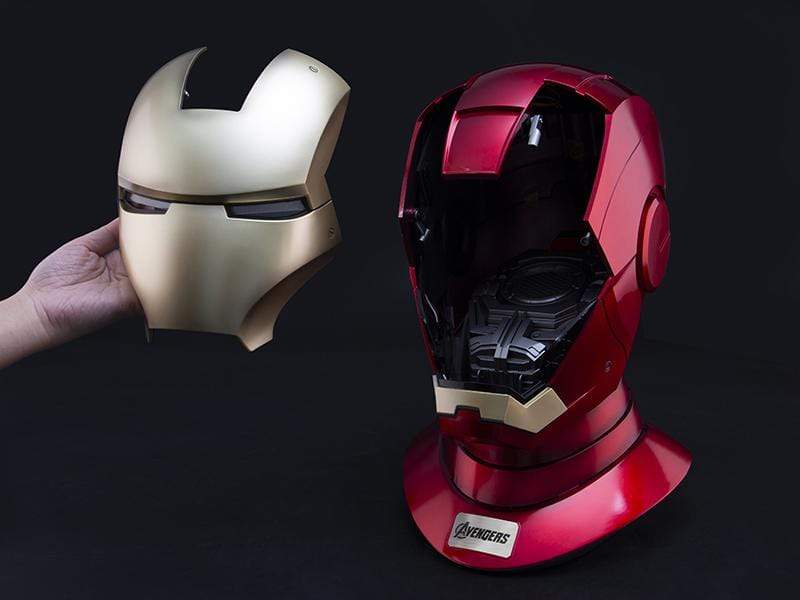 1:1 Iron Man MK7 wearable helmet
Three control modes:English voice control, touch control, remote control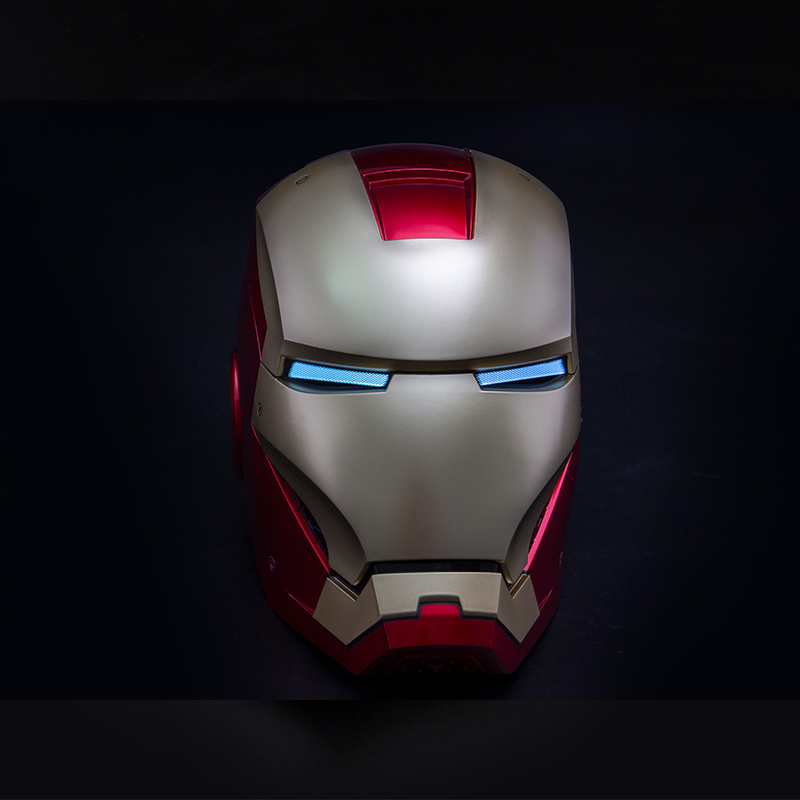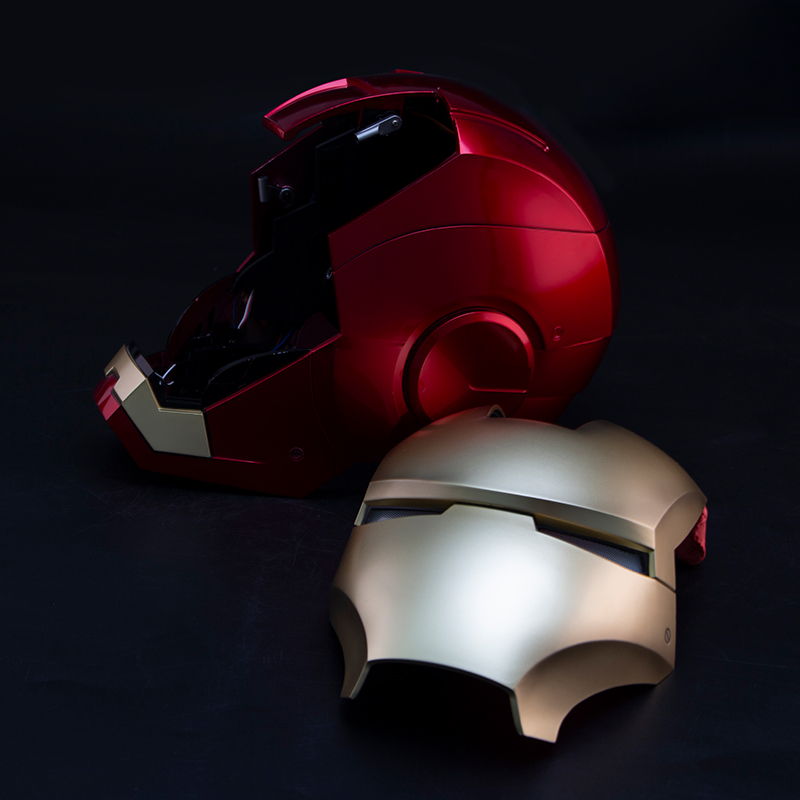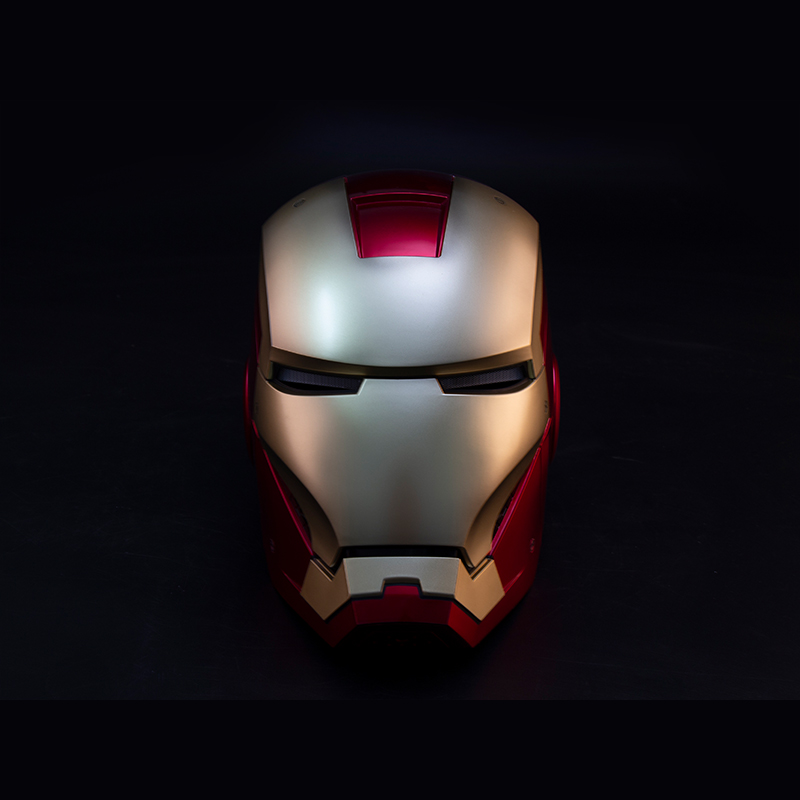 1:1 Iron Man Speaker Base MK7 Base
Bluetooth Speaker
Dual speakers
Cool blue atmosphere light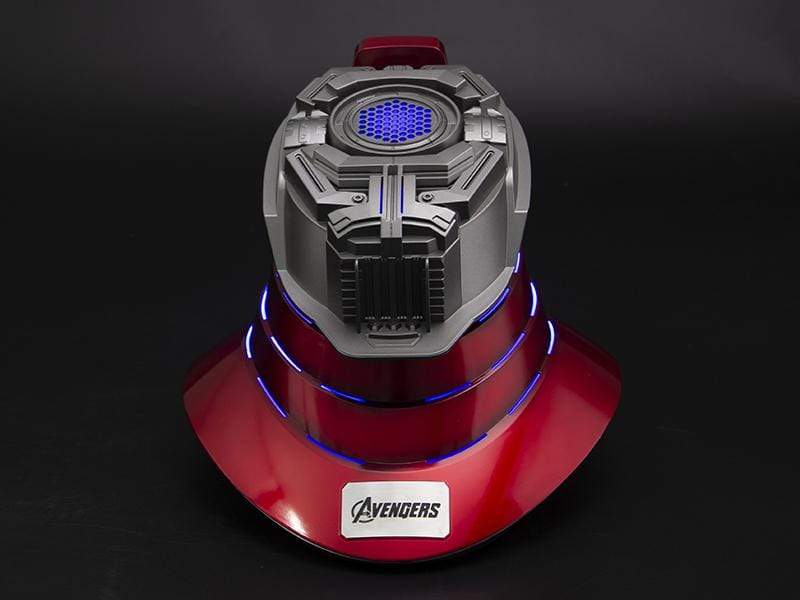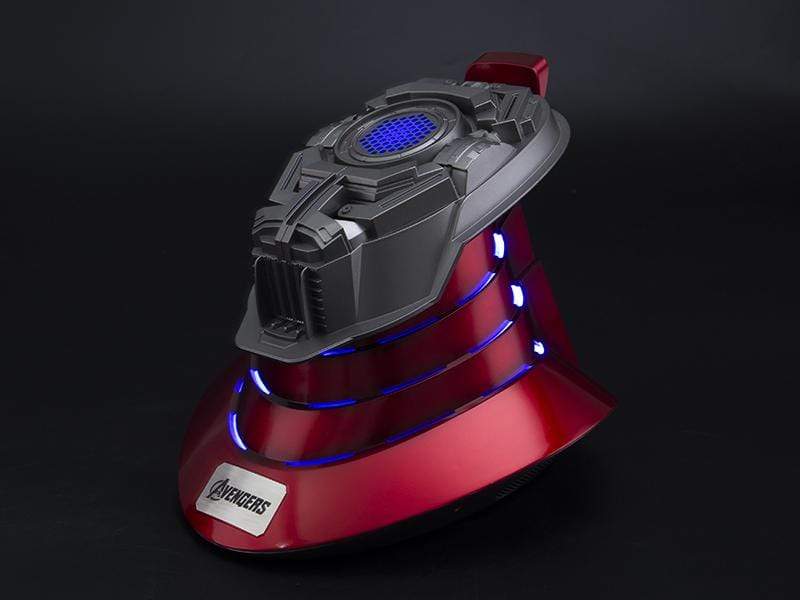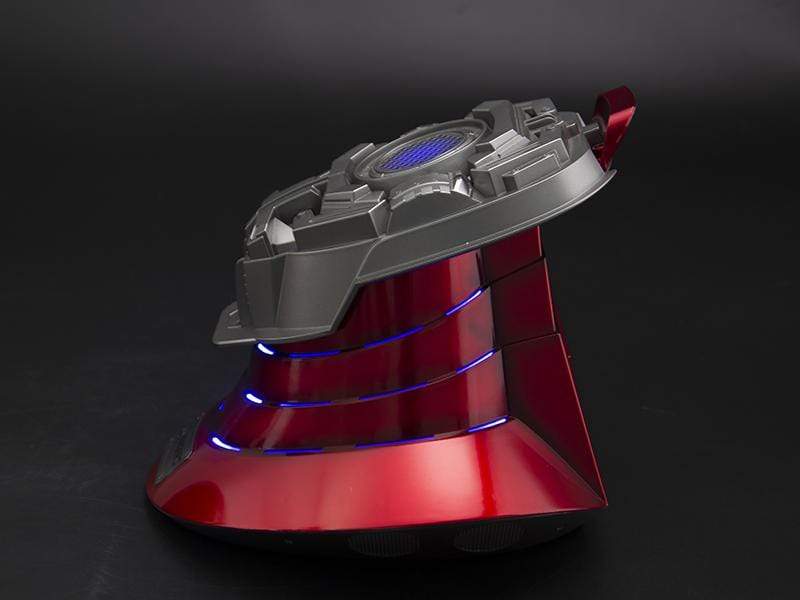 Remote control mode
 The top button- Special sound effects (call the Jarvis)
 The left button-Open(close) the mask
 The right button -Open(close)the eye lights
Material:●ABS ●PC ●Electronic components ●Metal
Product size:22.5*27.5*28cm
Express box size:31*29*28.5cm
Description:
-Iron man bust base w/speaker;
-Bust structure with details;
-Neck with delicate mechanical details-Cool blue light systems;
-Dual speakers with stereo sound;
-Touch wake-up ;
-Battery low voltage alarm;
-Shadow painted by hand
Including:
Bust base w/speaker*1
Manual*1
USB line*1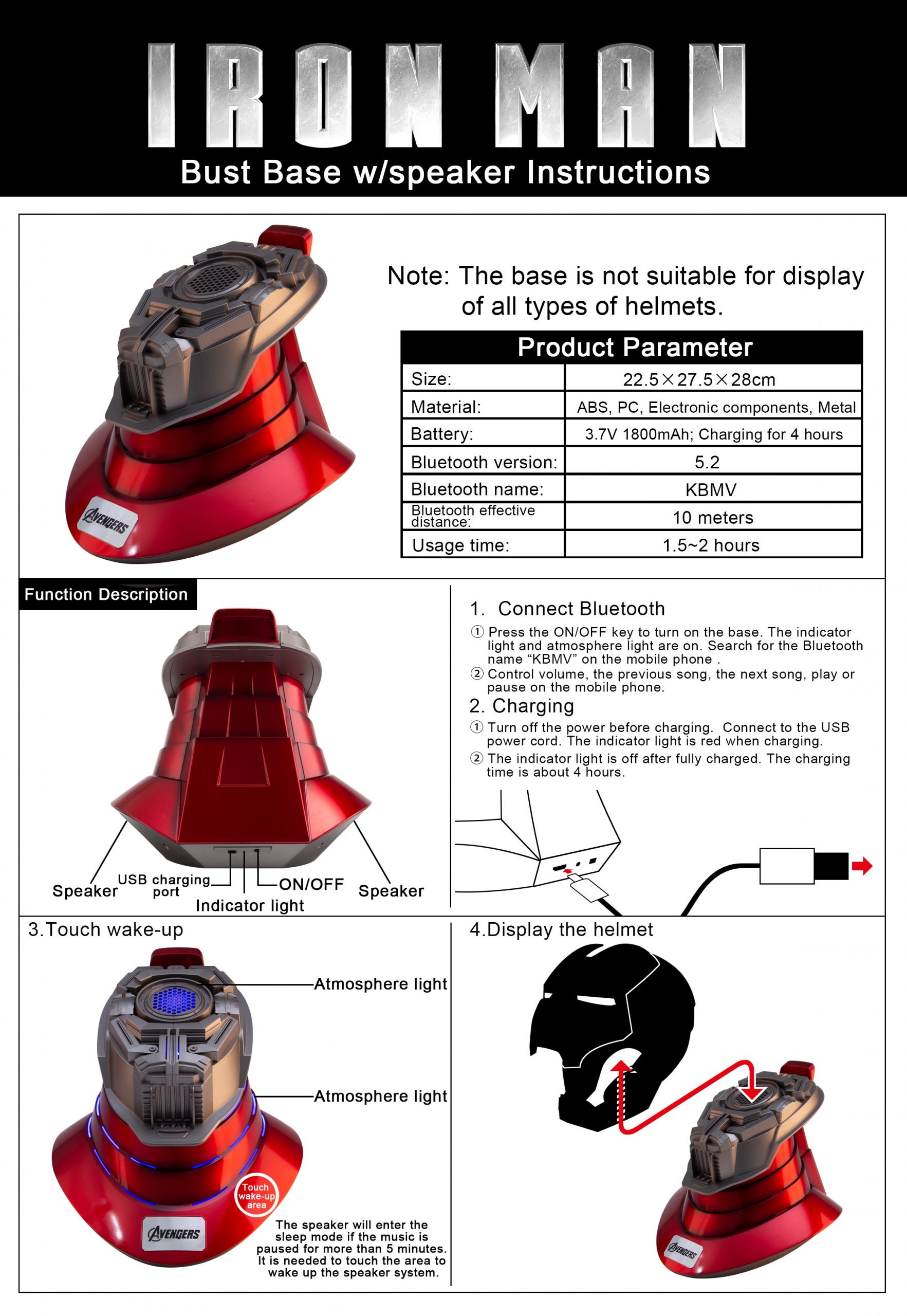 Three control modes: English voice control + touch control + remote control control,Mask matte metallic paint finish,Detail depiction of the internal structure of the mask.
The glasses light is transparent and visible (when the glasses are turned on)
The details of the chin line are portrayed with a stronger sense of three-dimensionality.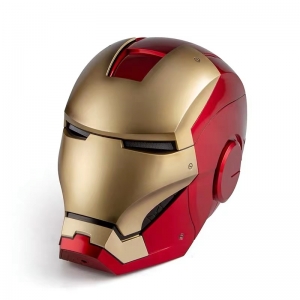 More Details
Masks on helmets can be interpolated.
The interior details of the mask are very careful.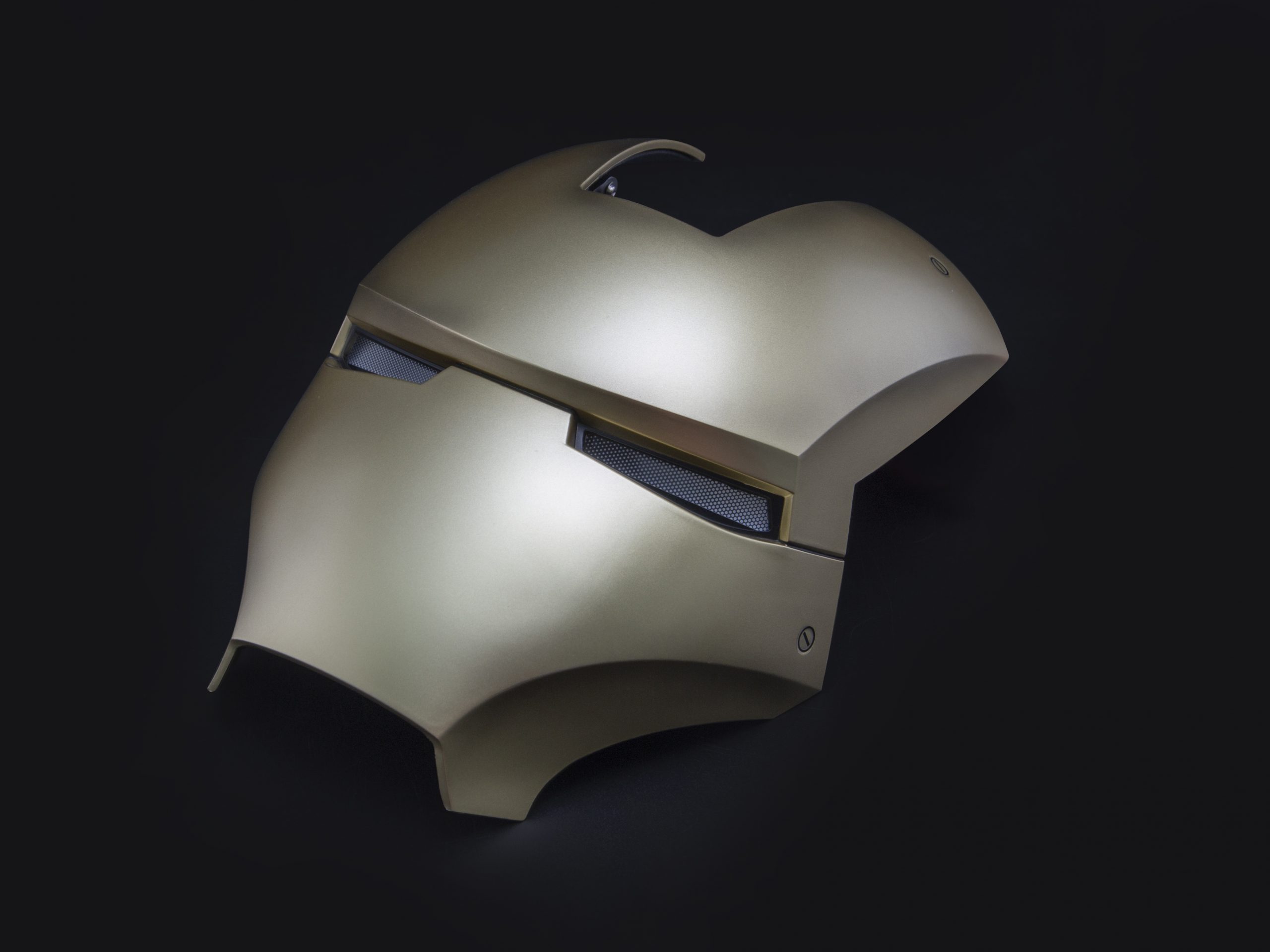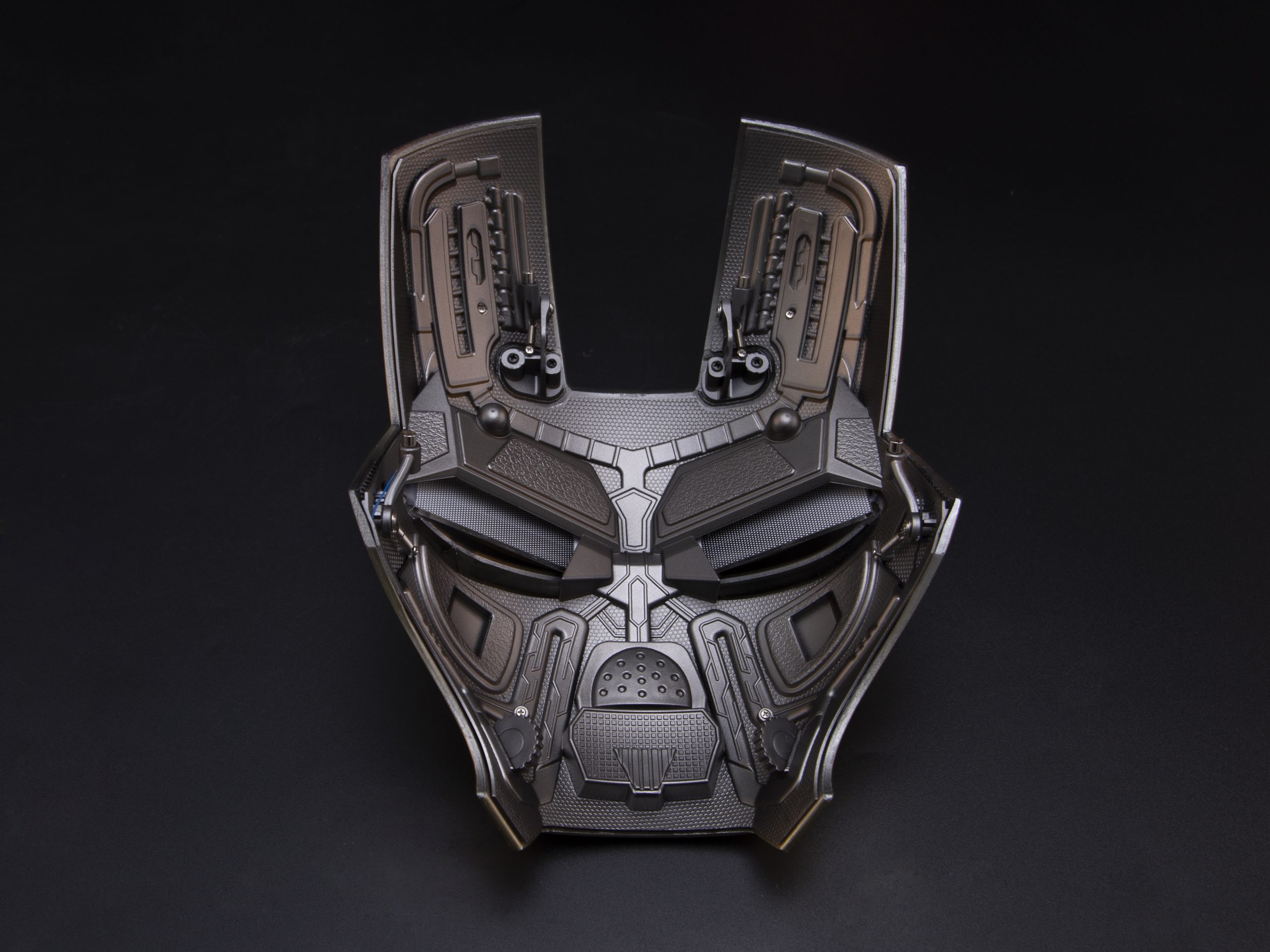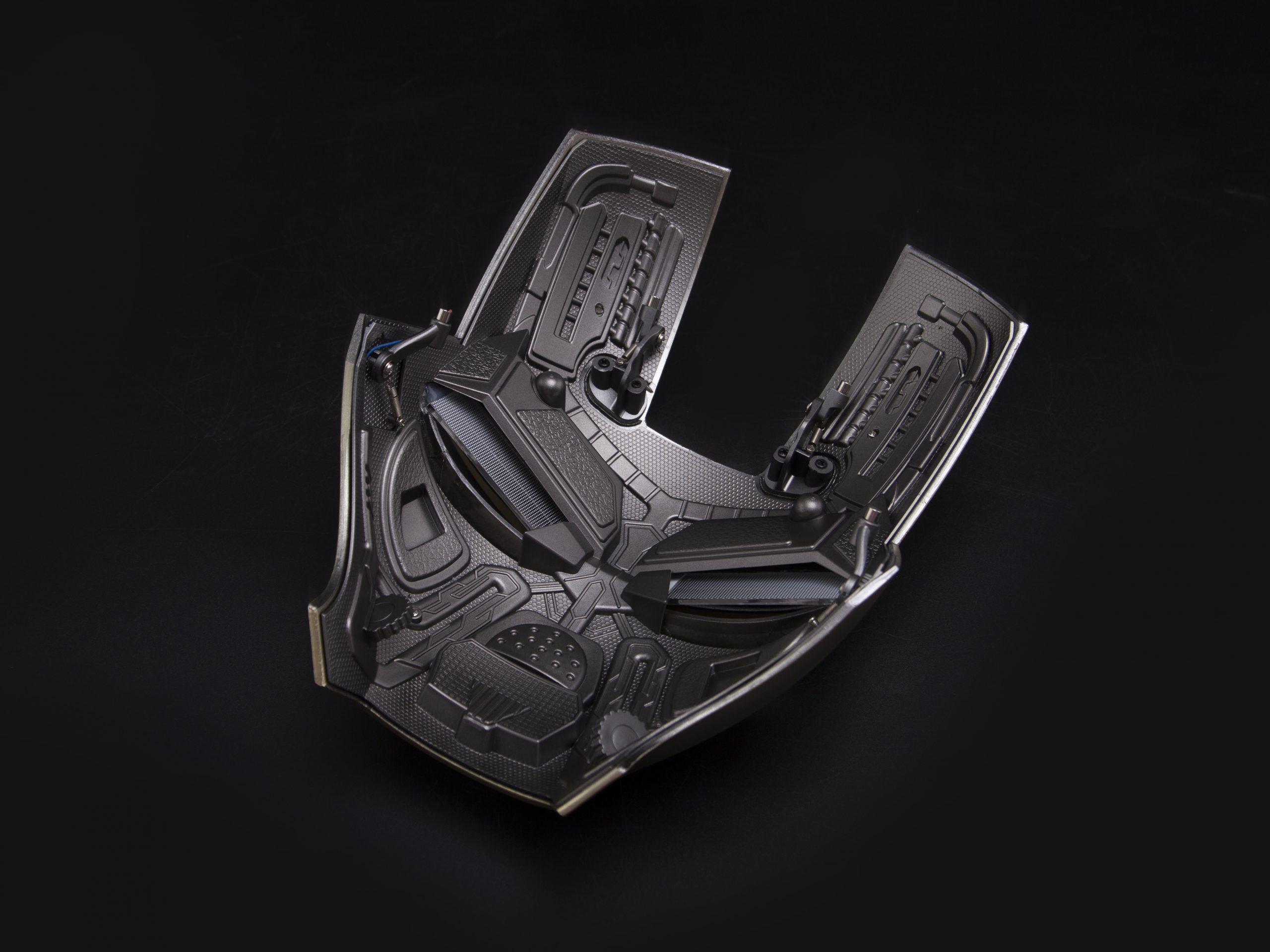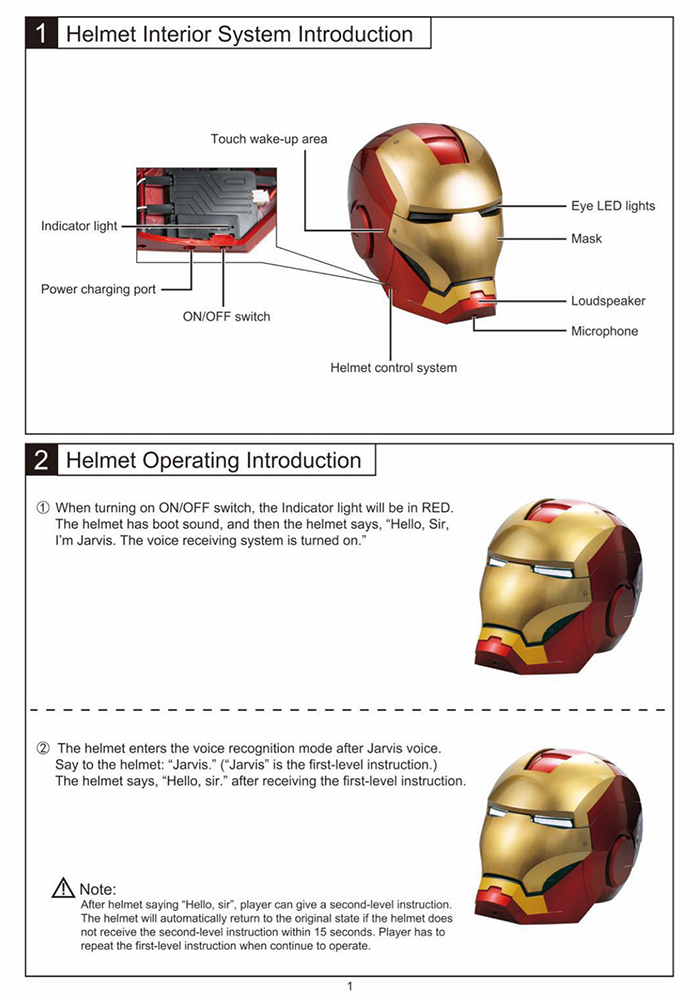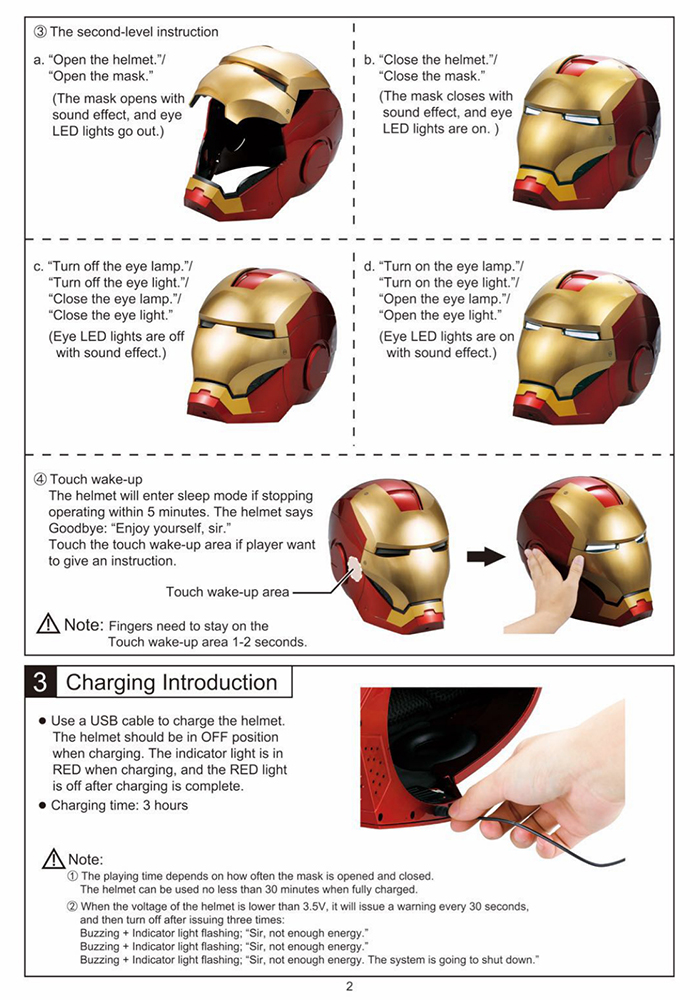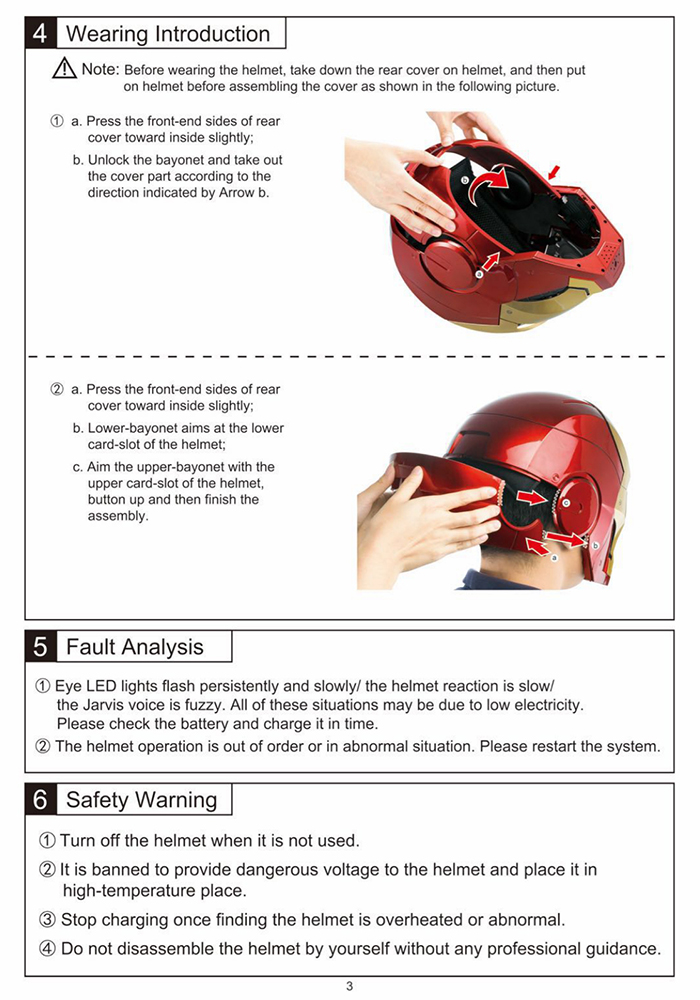 1:1 Iron Man MK5 Wearable Helmet
---
Product Name
Marvel 1:1 Iron Man MK5 Helmet
Material
PC、ABS、EVA、CPM
Product Size
The product is made according to the prototype 1: 1 ratio.Wearable within 62cm of head circumference【Appropriately 30x18x20cm (Inner length 23cm Inner Width 18cm )】
Color Process
Face mask tungsten steel silver metal wire drawing version, the surface effect is the metal wire drawing effect.
Deformation Mode
voice control 、remote control 、touch sensor mode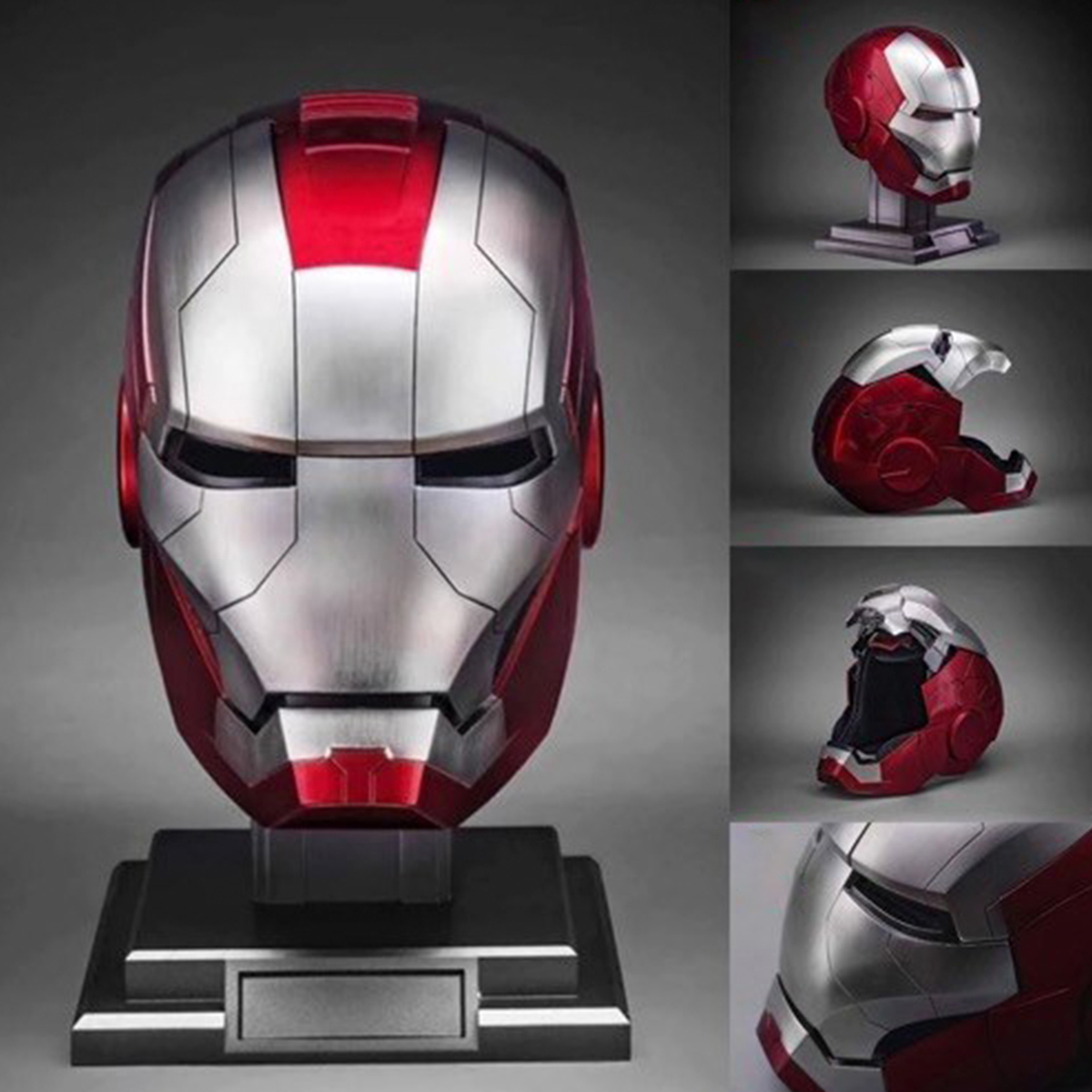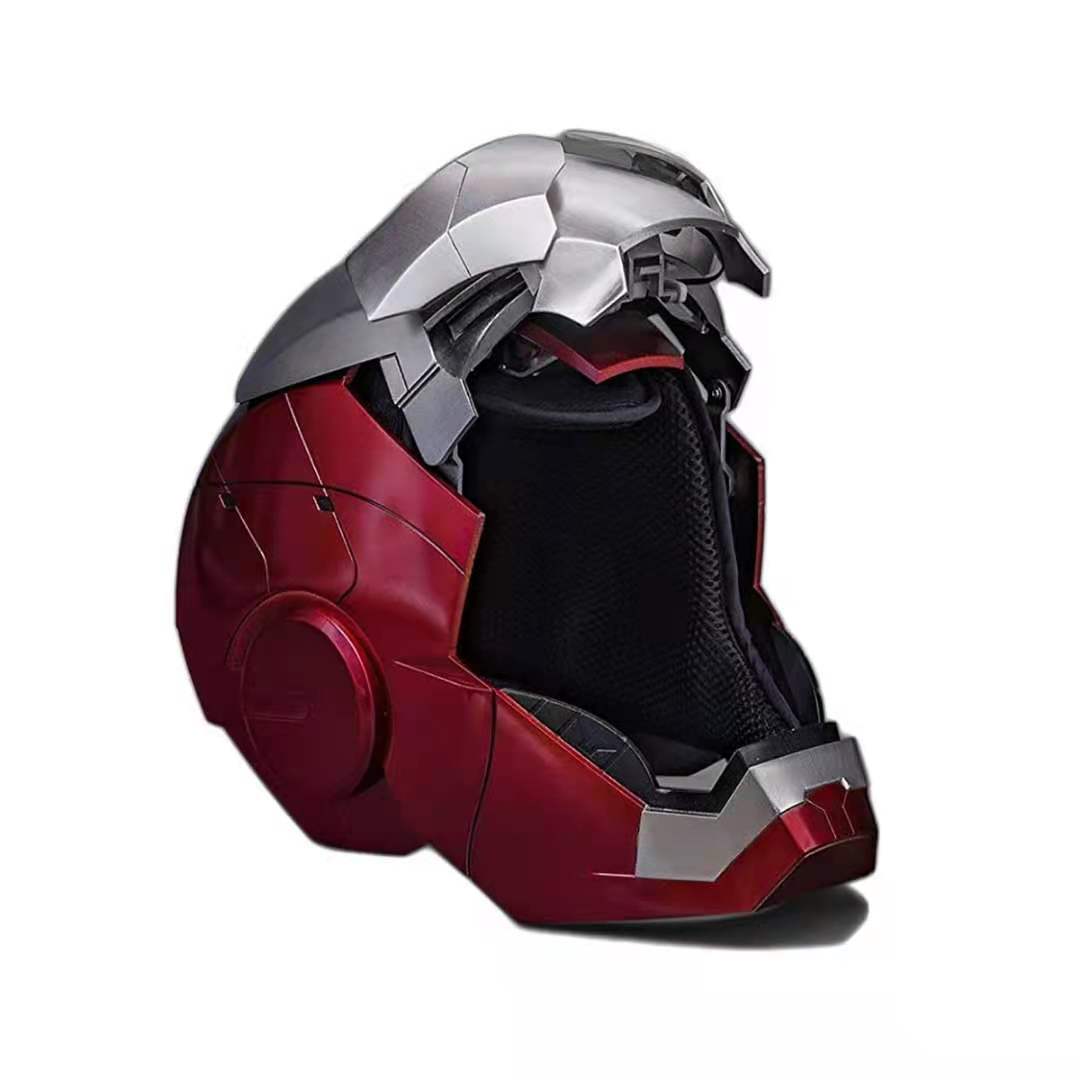 Product Features
---
1/1 wearable.
The mask can be opened and closed in both standard and multi-film modes to restore the Mark5 movie style.
Two modes of voice control, remote control and touch sensor are three ways to open the mask.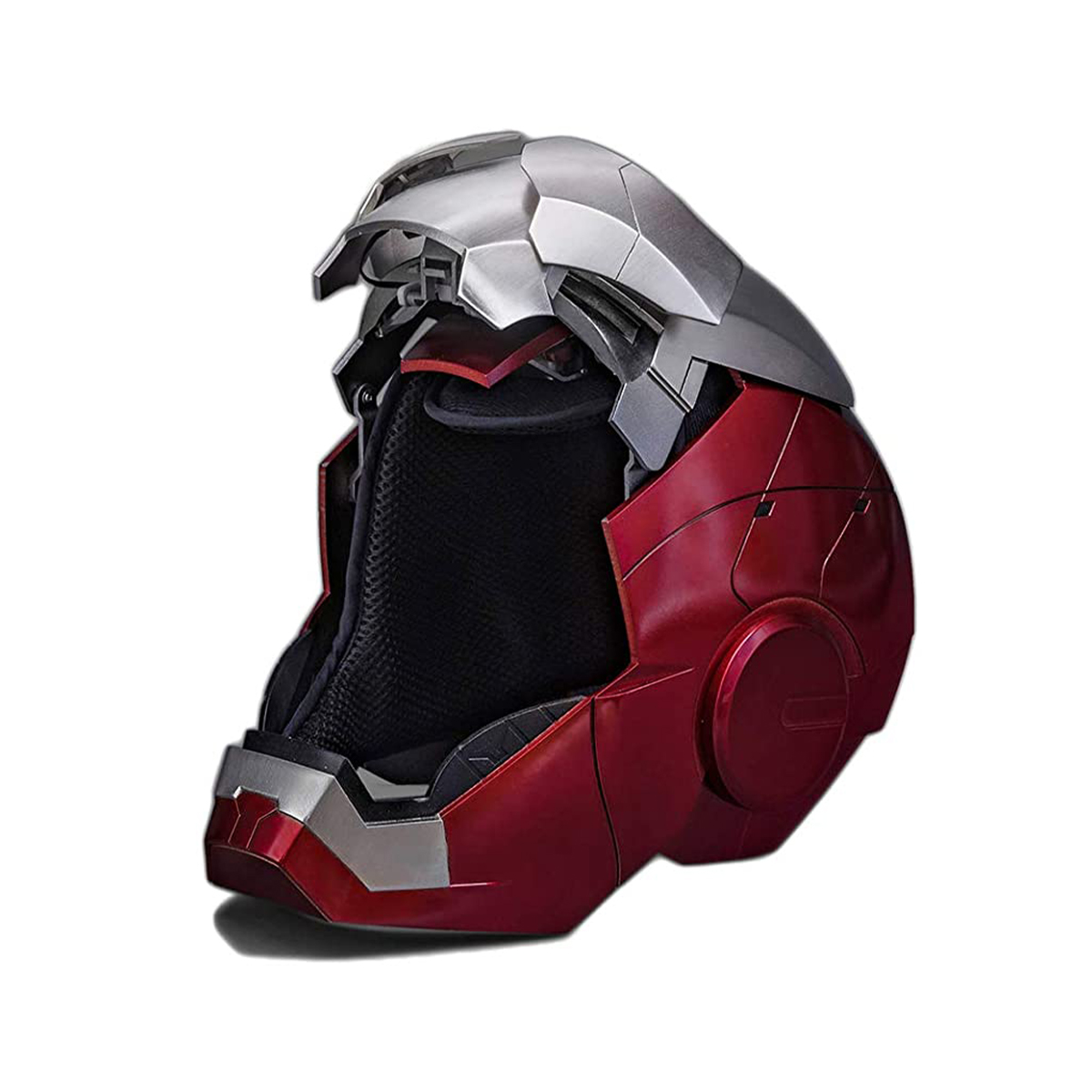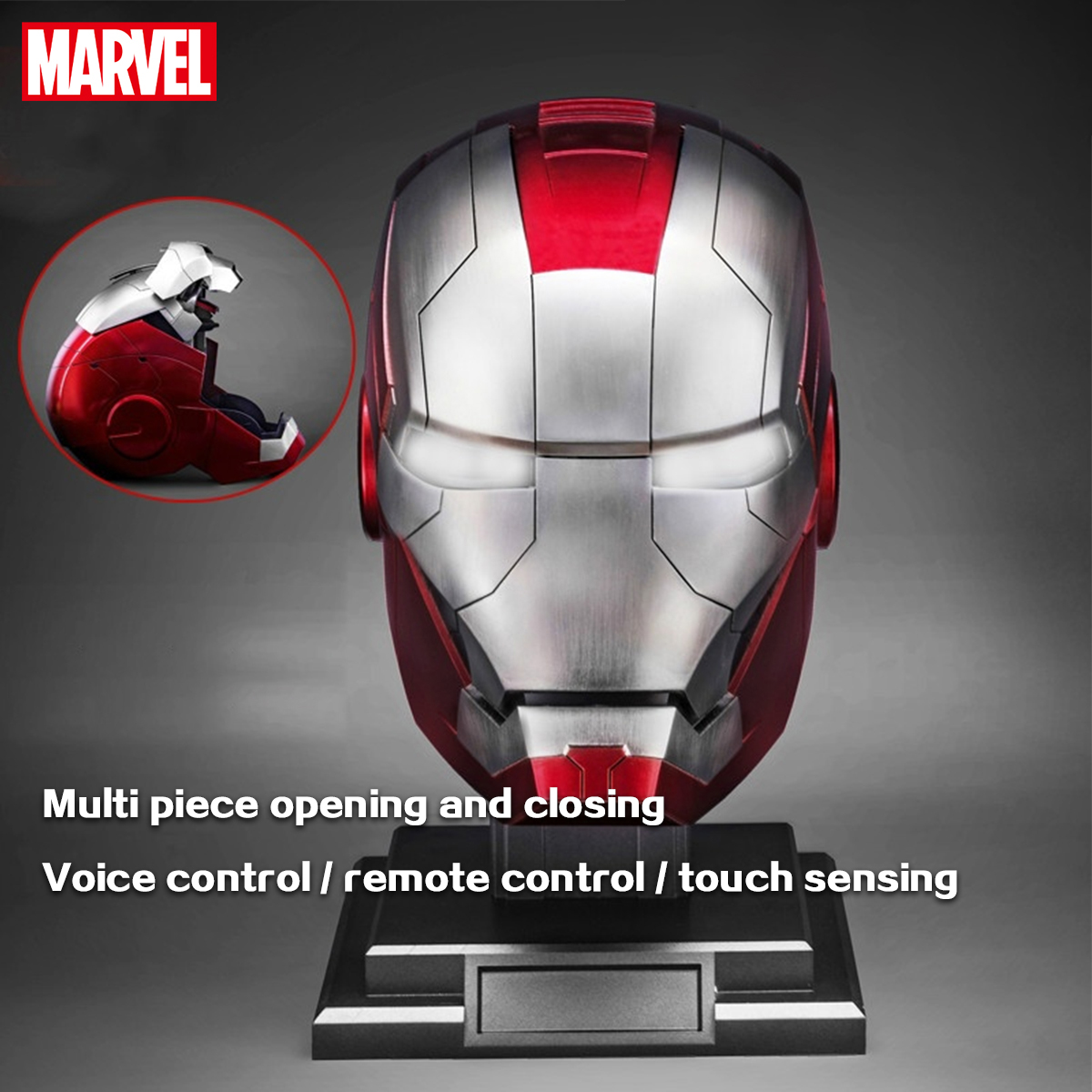 Voice Control Instructions
---
"Javis"
"Start System"
"Open The Mask"
"Close The Mask"
"Start Combat Mode"
"Close Combat Mode"
"Shutdown System"
Remote Control Instructions
---
1:Power Switch
2:Power light
A:Control Mask Overall Type On/Close
B:Control Mask Multi-chip Type On/Close
C:Eye Light Switch Color
D:Eye Light Turn On/Turn Off
E:Helmet Sound Effects Turn On/Turn Off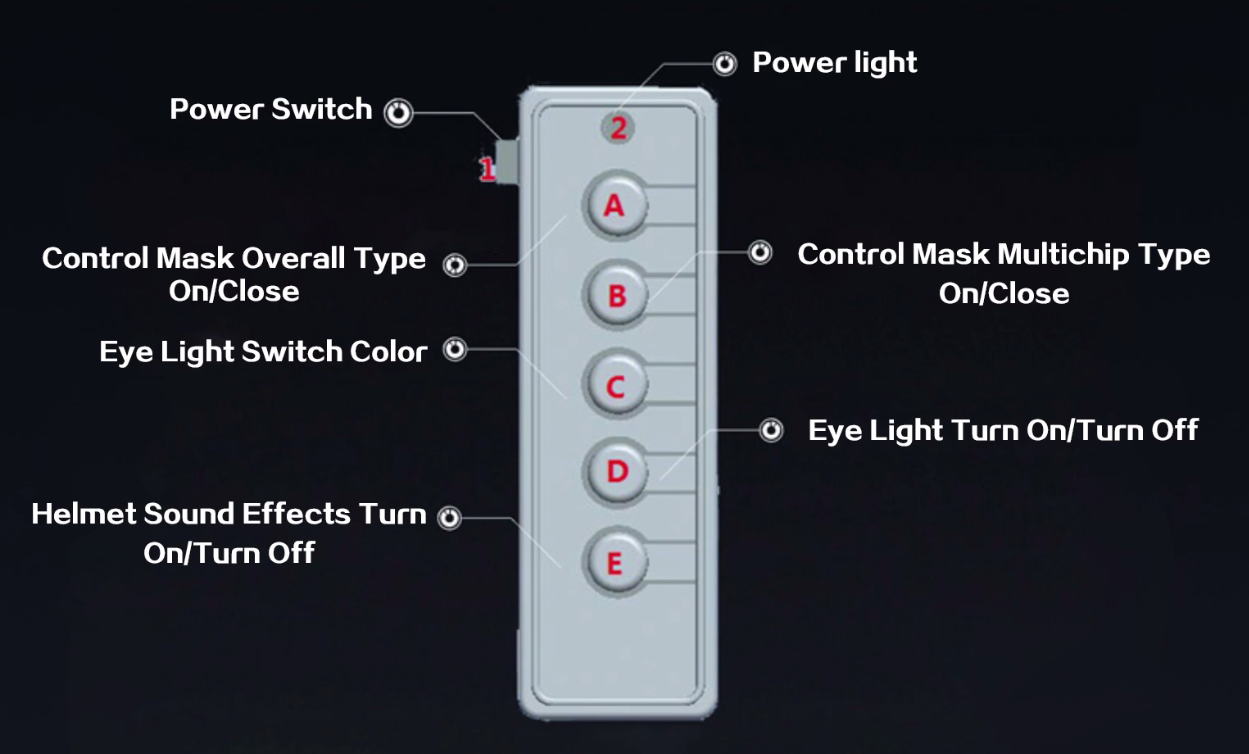 Tips
---
1、This product is suitable for people with head circumference below 62cm.
2、Before starting the helmet (or when restarting the system power)It is necessary to ensure that the mask is closed smoothly before starting up, such as the existing part of the mask.When all parts are open, all parts need to be closed manually gently to ensure that the surface is not stable.Turn off and on again.
3、Battery case and wearing instructions are hidden on the back of the black pad on the back cover.Please take off the back cover before wearing.It needs four No. 5 (AAA) batteries.Remove the back cover before wearing the helmet.Install the back cover after wearing it.Four No. 5 (AAA) batteries.And the remote control needs a 7 battery.
4、When the product is not in use for a long time, please remove the dry battery.It is strictly forbidden to play with the mask opened by manual external force flap. Corpse is forbidden when the helmet is opened and closedAn external force impedes movement, causing different damage to the opponent.. Non-professionals, do not disassemble the product by yourself.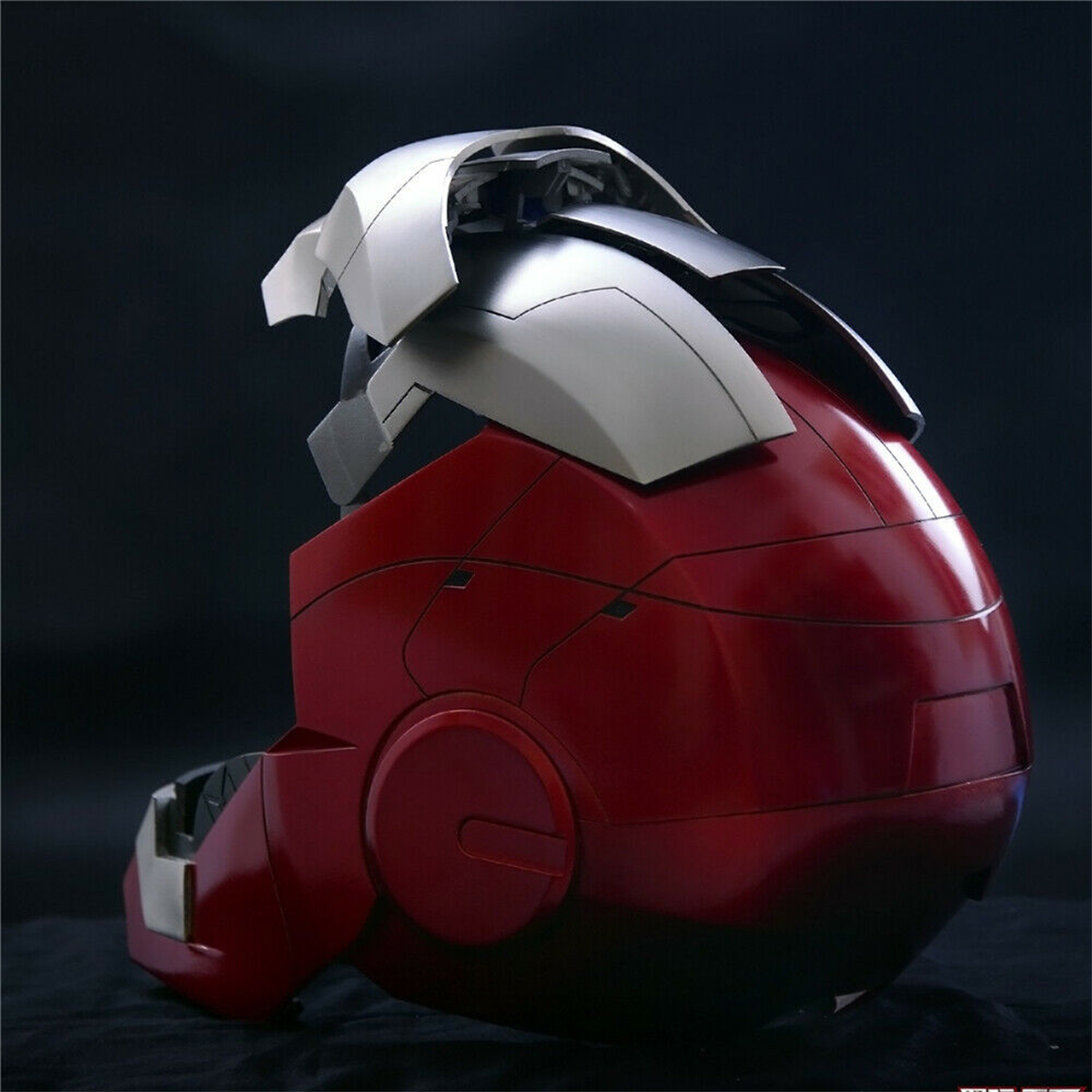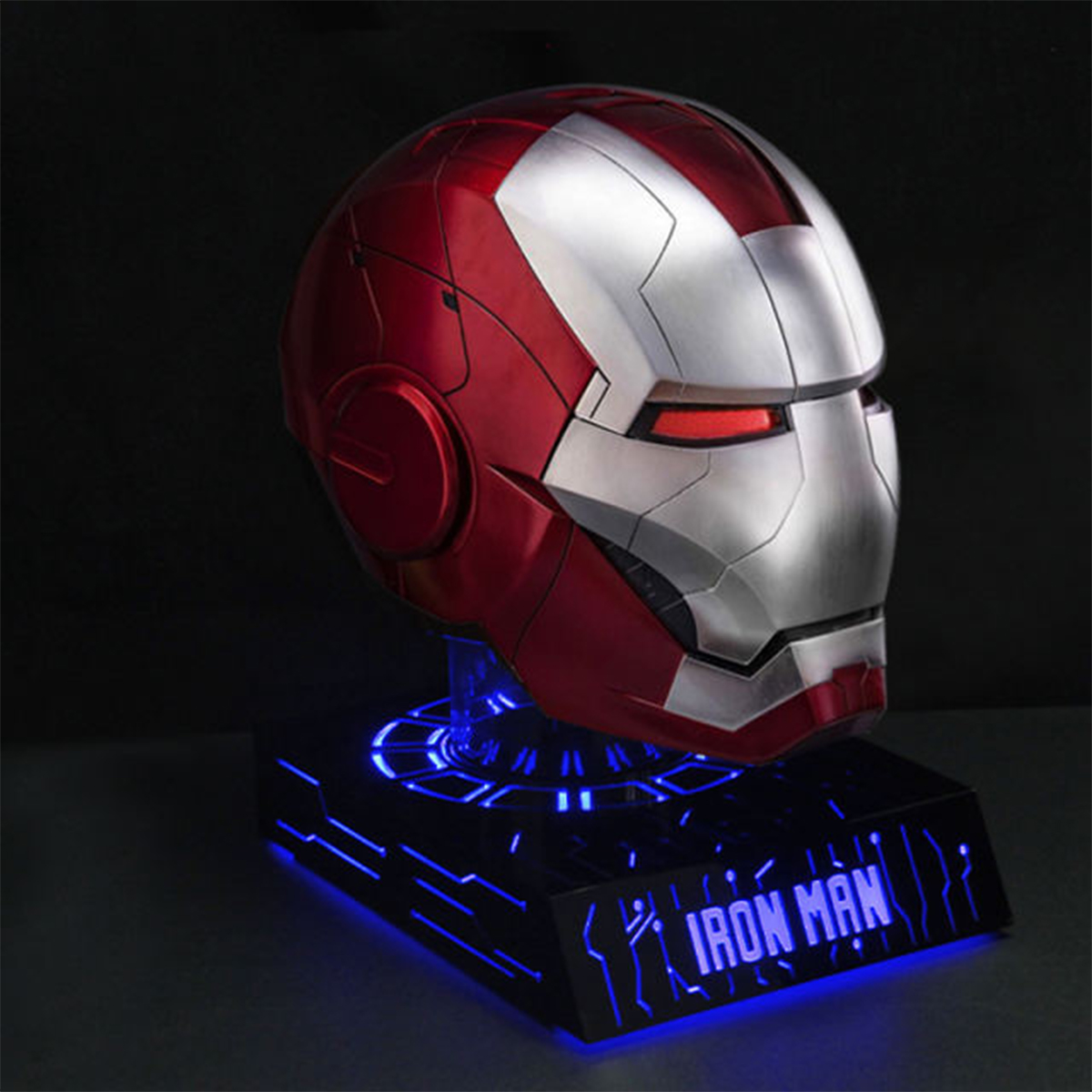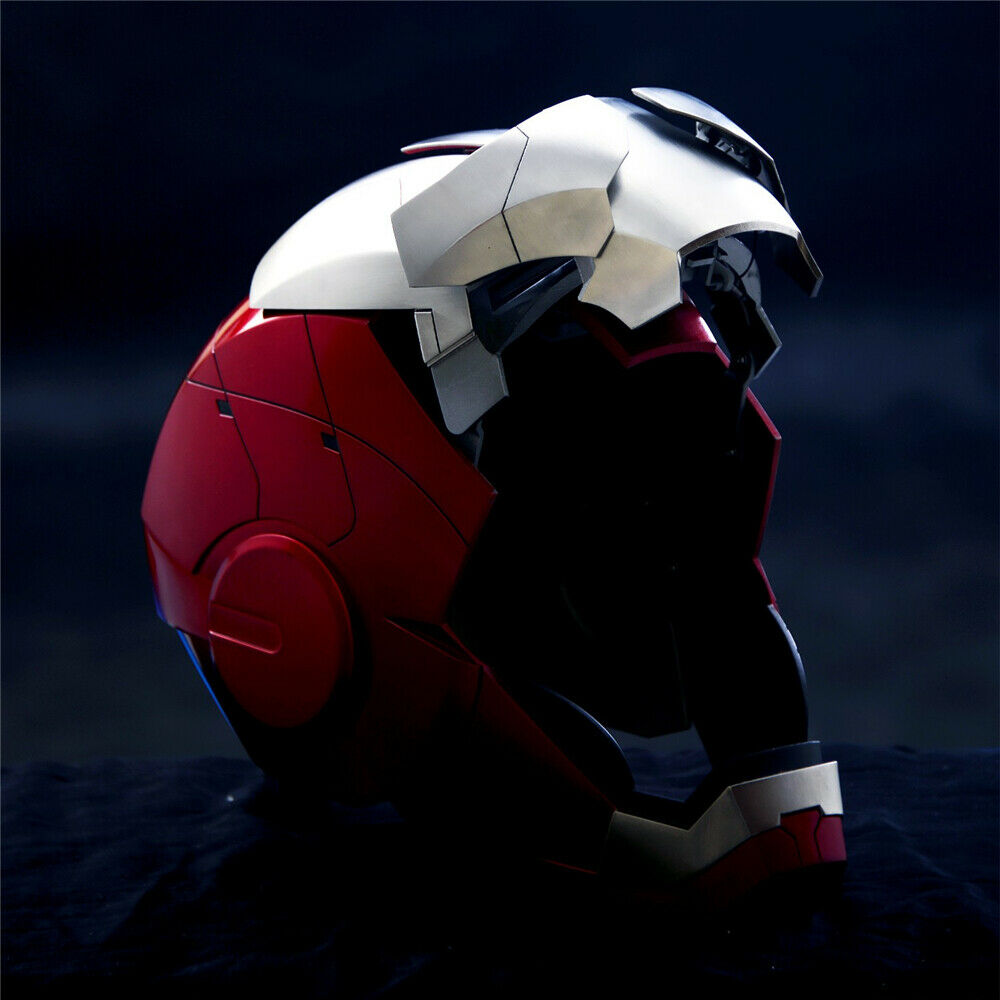 1:1 Iron Man MK85 Wearable Helmet
---
Based on the Marvel Studios movies Spider-Man: Far From Home and The Avengers: Endgame. This Iron Man Mark 85 helmet is the most iconic Iron Man mask for all the latest Marvel films.
Product Introduction
---
Product name
lron-Man MK 85 wearable 1:1 helmet
Material
ABS high-density engineering plastic resin, metal texture paint inner diameter
Specifications
26.5*26.5*39.5cm
[Suitable for people with a head circumference of 60cm or less]
***Buyers need to prepare 4pcs AA batteries.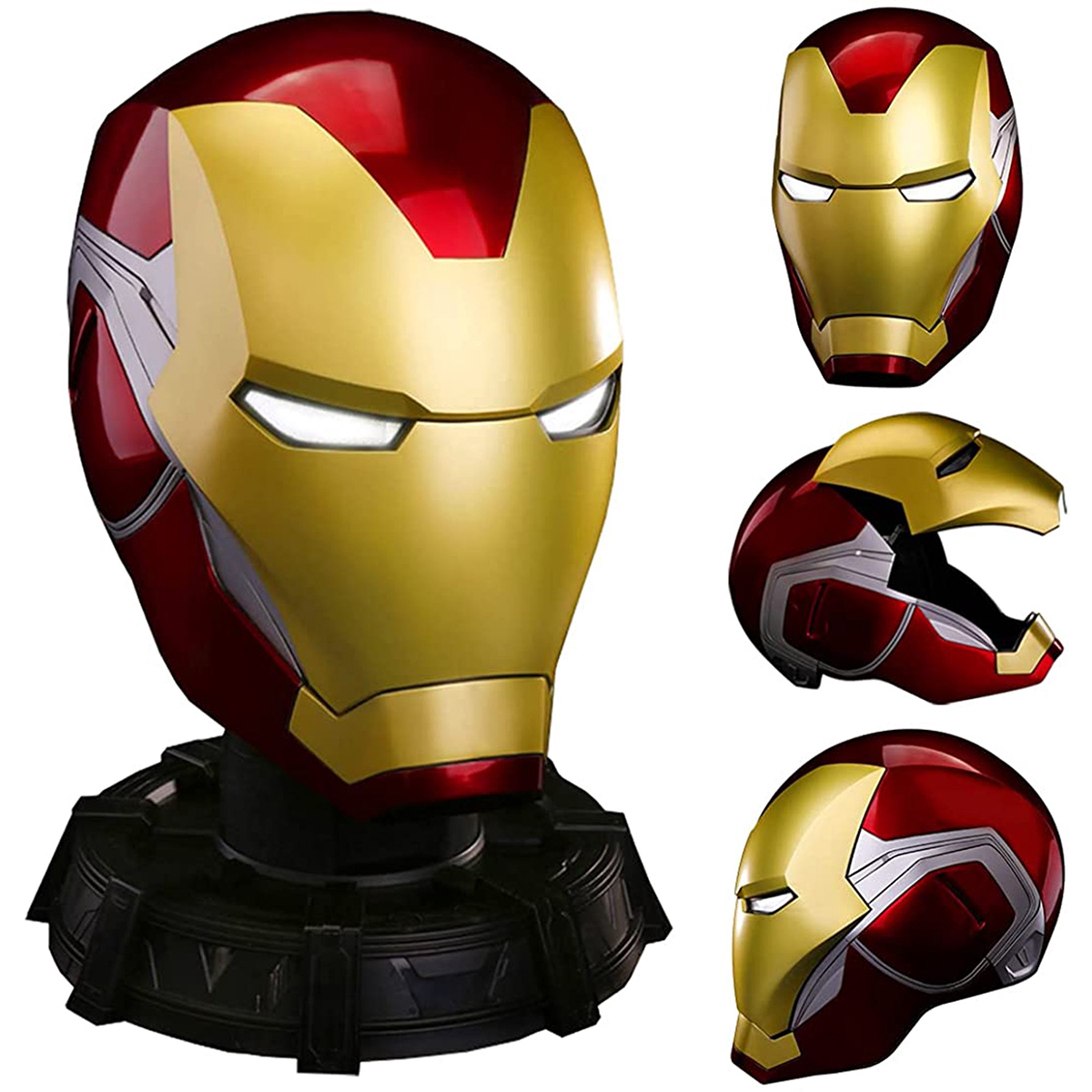 Features
---
Touch sensitive circuit breaker mask

The mask is detachable, touch-control voice-activated bluetooth speaker, with eye light

Can connect with built-in bluetooth headset

Mobile phone analog motor metal sound effect opening and closing

Sponge lining, piano paint surface, comfortable wearing experience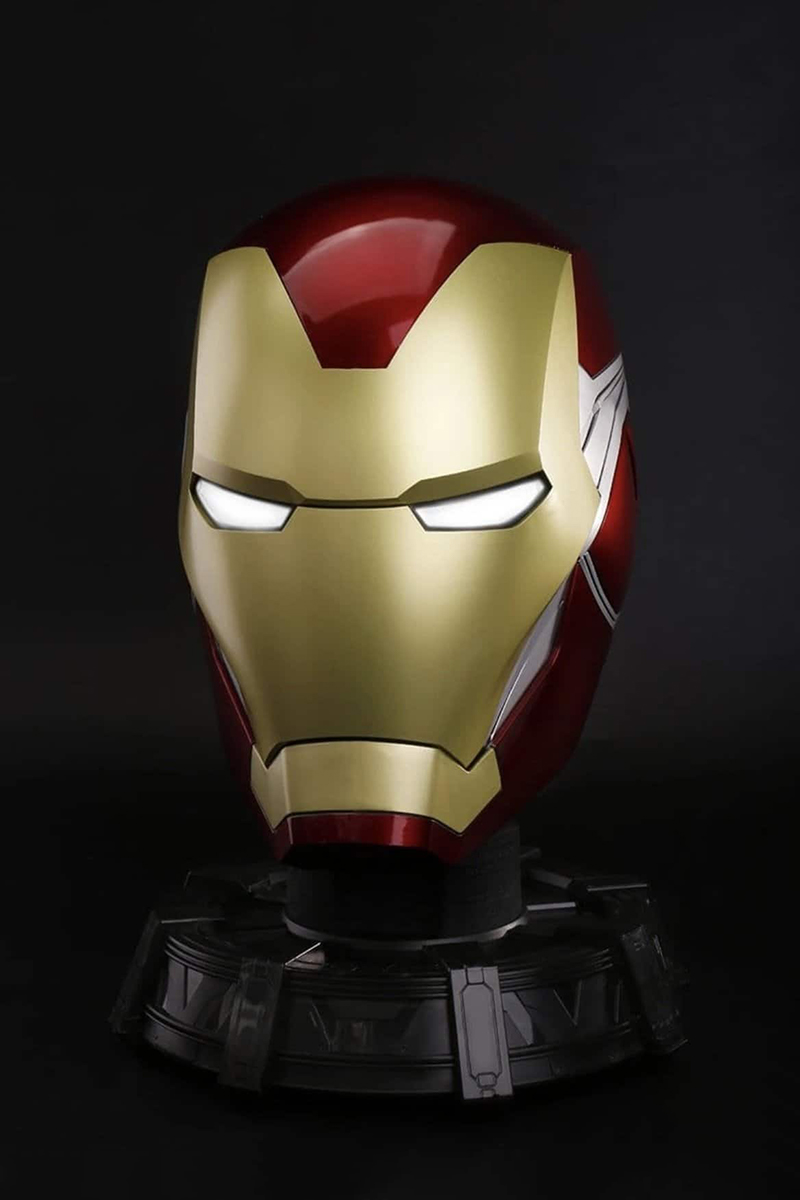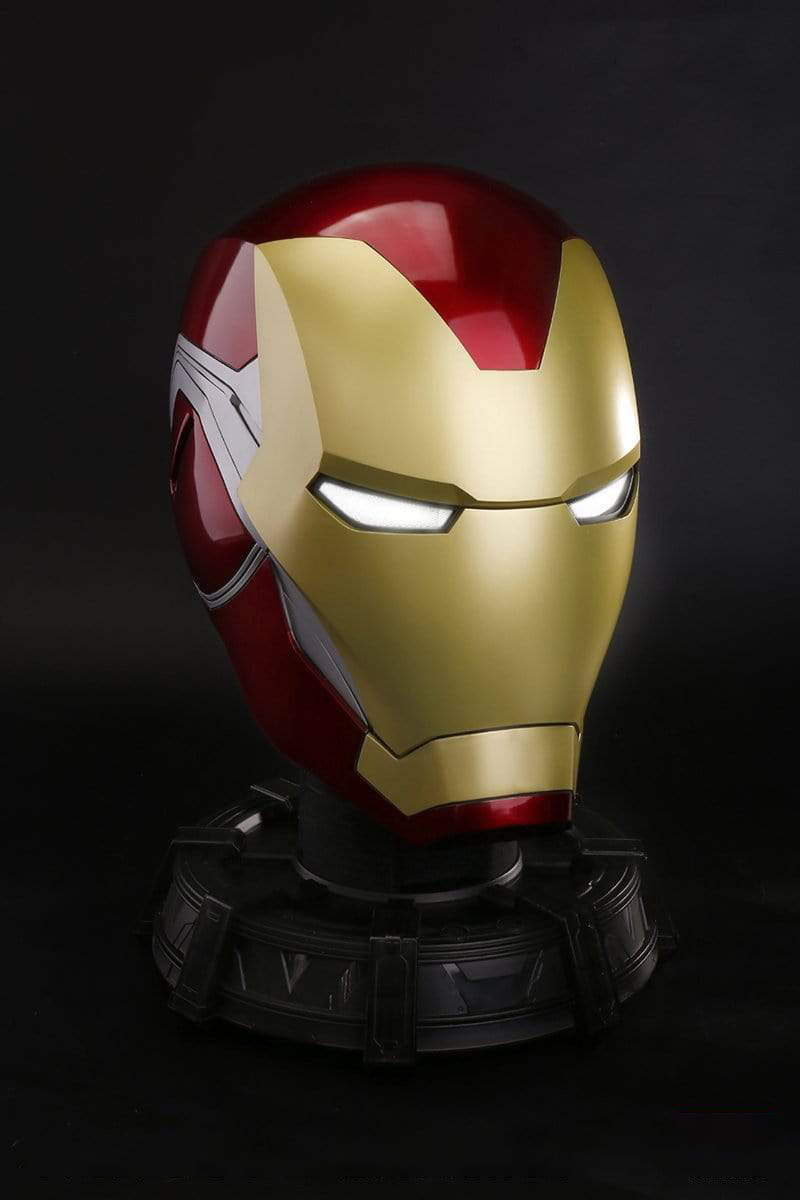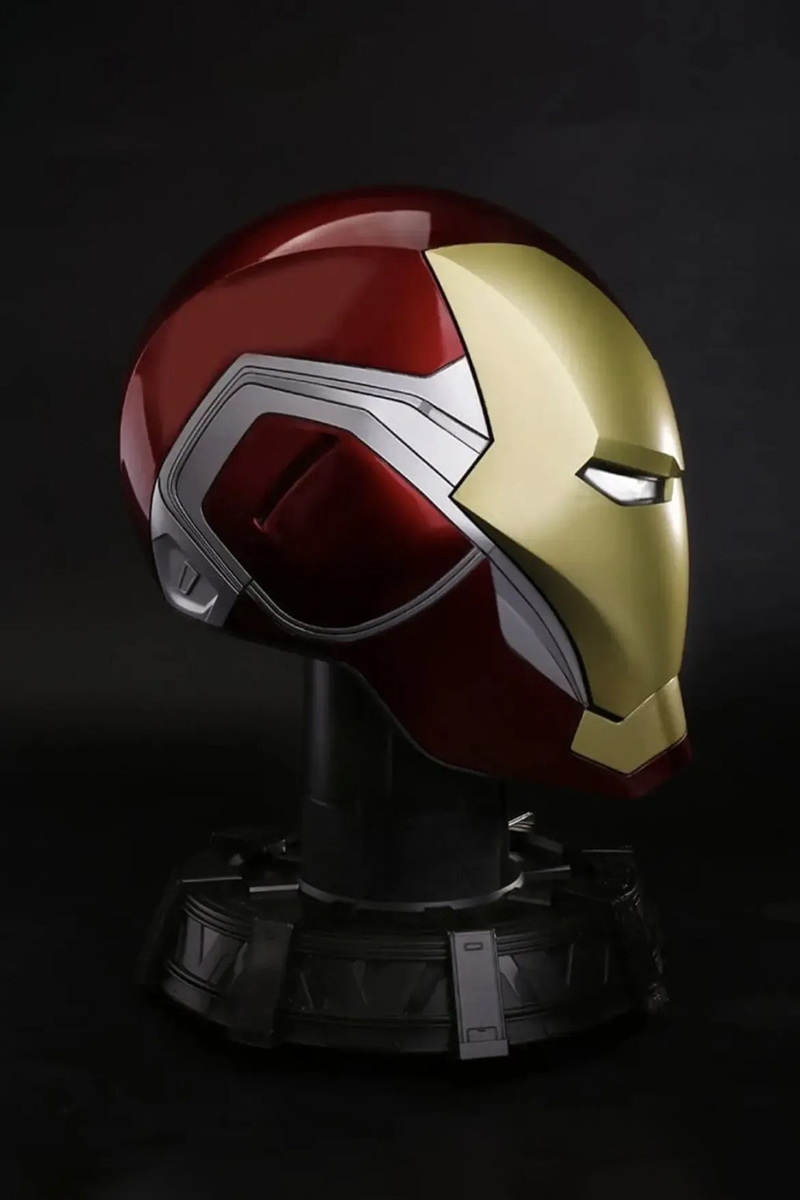 Speaker base
---
Turn on the button on the left and the Bluetooth on button on the right. Press the on button to connect to Bluetooth, and then you can play mobile phone music and sound effects.
The eyes are glowing, and you can still see the outside world clearly.
There is a gap in the position of the LED lamp in the eye, and the outside can be seen through this position even when it is illuminated several times.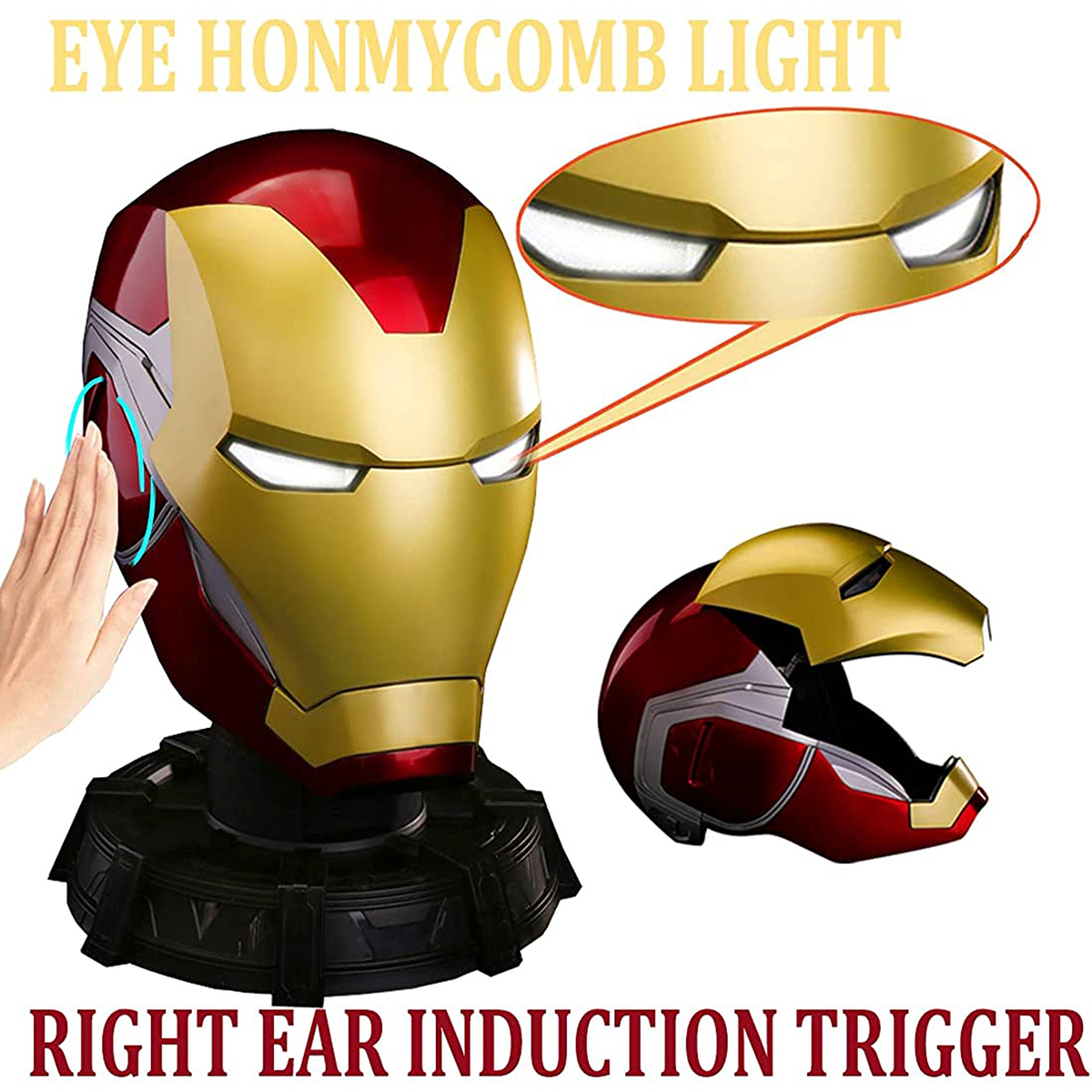 The mask of the MK85 helmet is datachable.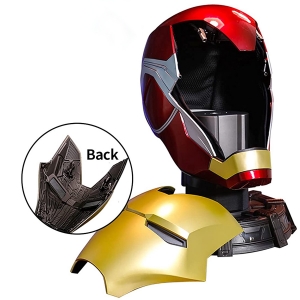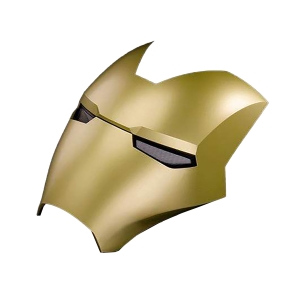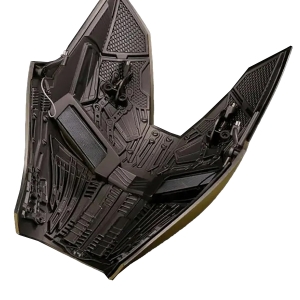 Made with fine abs plastic, the helmet is light and comfortable and additionally durable.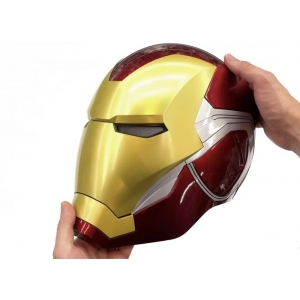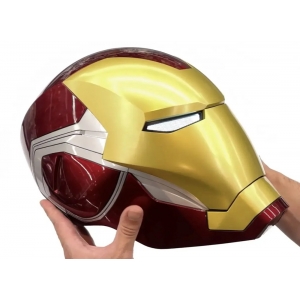 Tips
---
1. The eye lights continue to flash slowly or move slowly, the sound is cleared, and the battery power is too low. Charge in time and turn on after charging.
2. If the operation fails or an abnormal situation occurs, just restart the system.
3.If the battery is low, a special warning sound and flashing eye lights will sound.
More Iron Man related products