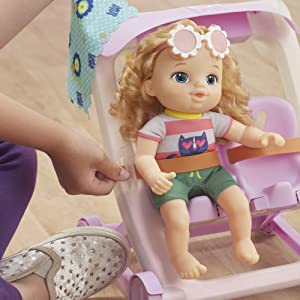 Littles by Baby Alive, Push 'n Kick Stroller, Little Ana
YOU PUSH, SHE KICKS
Get a kick out of playtime! Pushing the Littles by Baby Alive Push 'n Kick stroller makes the included doll's legs kick and up and down as you stroll!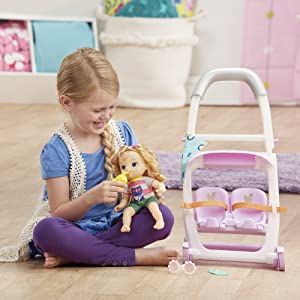 WHERE WILL YOU TAKE YOUR LITTLES TODAY?
It's not only fun to push, this stroller comes with a doll, Little Ana, and fun accessories for on-the-go play! Grab her sippy cup, sunglasses, and blanket, and tuck Little Ana into her stroller with a playdate pal (additional dolls sold separately). Kids can imagine heading out to the park, playground, preschool, dance class, or anywhere they want to go! Little Ana is so excited to be out and about with you, her legs are kicking with happiness!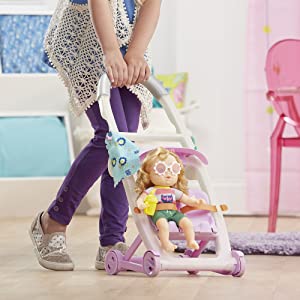 DOUBLE THE FUN
Unfold the Littles by Baby Alive double doll stroller (adult assembly required), and get ready for push-and-kick fun! When kids push the stroller, Little Ana's legs will kick as they roll along! Add a second doll (sold separately) and both dolls' legs will kick as they go. Kids will love watching their dolls' legs kick like real little toddlers' heading out for a stroll!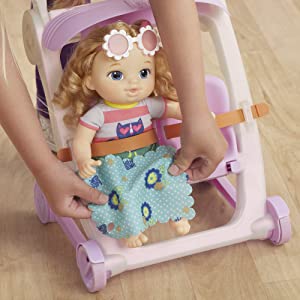 MEET LITTLE ANA
Each toddler doll in the Littles by Baby Alive line has a character bio! Little Ana is clever and creative. She loves bright colors and dressing up in mix-and-match outfits! (Additional doll clothes sold separately.) Where will you take Little Ana today? It's up to YOU to plan her playdate adventures! Is it a sunny-day picnic at the playground? Twirling in tutus at dance class? A super-star fashion show with the whole squad? (Each doll sold separately.) With the Littles Push 'n Kick stroller, no matter which adventure you choose — getting there is half the fun!