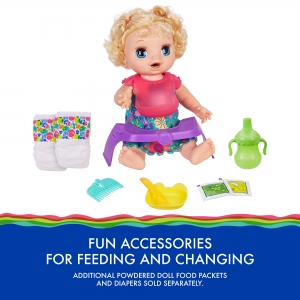 BABY'S HUNGRY AND SHE LOVES TO EAT
Happy Hungry Baby loves to eat and she loves when you mix up her favorite food and feed her! She'll tell you when she's hungry and wants more, when she wants a drink of water, and even when it's time to change her diaper! Uh-oh…"Baby stinky!"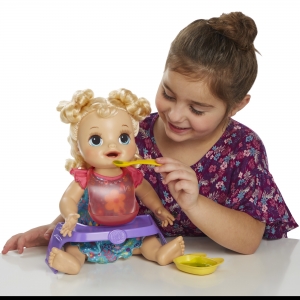 SHE LOVES TO EAT
Happy Hungry Baby loves to eat and she loves when you mix up her favorite food and feed her! Kids can make realistic looking doll food by adding water to the powdered food and stirring.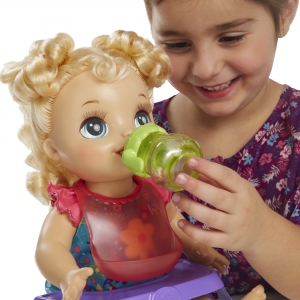 DECIDE WHAT YOUR BABY WANTS
Kids will love feeding this Happy Hungry Baby who loves to eat! They can decide what their baby wants, and even make doll food that looks like real baby food.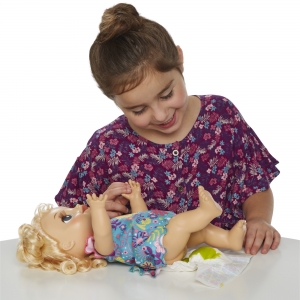 FEEDIING TRAY, BIB, BOWL, AND MORE
Doll comes with a feeding tray, bib, bowl, interactive spoon, sippy cup, comb, 2 packets of powdered doll food, and 2 diapers (additional powdered food packets and diapers sold separately).